Digital Agriculture for Poverty Reduction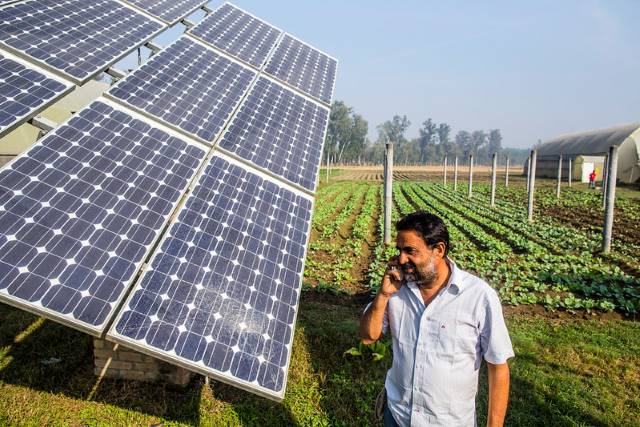 Digital agriculture is a movement to digitize aspects of farming and food distribution. This has the potential to create a more sustainable, cost-effective and socially inclusive agricultural sector. Digital agriculture reduces poverty when smallholder farms use technology to increase efficiency, thereby becoming more competitive on the market. The World Bank estimates that by 2030, more than 100 million people could end up in extreme poverty due to the impact of environmental challenges on the agricultural sector. Although technology is not the only solution to ending global poverty, it is one promising way to improve the livelihoods of small-scale rural farmers. Using digital tools can improve crop monitoring, relationships between buyers and sellers, access to information and help develop more precise farming practices.
Smallholder Farms
The U.N. Food and Agriculture Organization (FAO) states that smallholder farms, farms of two hectares or less, utilize 12% of the world's agricultural land and family-run farms utilize 75% of global agricultural land. In sub-Saharan Africa, smallholder farms are responsible for 80% of the food produced. These small farms face many challenges. Soil erosion, drought and other environmental issues can completely wipe out crops and leave families with no income. In recent years, environmental catastrophes left 13 million people from Kenya, Ethiopia and Somalia with no choice but to rely on humanitarian assistance. In addition to high susceptibility to weather extremes, rural areas have less access to information and affordable internet services. Digital agriculture reduces poverty by alleviating some of these stressors.
E-commerce in Asia
Digital agriculture reduces poverty through already established concepts like e-commerce. Alibaba, the Chinese e-commerce company, started a project in 2014 called Rural Taobao. The project aims to increase efficiency and lower costs of agricultural distribution, similar to how Airbnb and other service apps optimize supply and demand by digitally matching buyer and seller.
Rural Taobao is an online marketplace where farmers can buy products from manufacturers, have those products delivered, and then, distribute their crop yields using the same transportation that delivered the factory items. Essentially, this online platform ensures that trucks going into rural areas do not go back to the cities empty, but instead, go back full of agricultural products to sell.
Central Asia has 10.7 million farmers and a land per capita endowment that is five times higher than China's. As a result, Central Asia has the potential to be a major exporter of high-quality agricultural goods. A program like Rural Taobao, and E-commerce in general, are ways that digital agriculture in Central Asia can optimize distribution, fulfill its potential as a competitive agricultural market and bring more financial capital into rural areas.
Access to Information in Niger
NOVATECH, a startup in Niger, developed an Interactive Voice Response Platform (IVR) in 2017 called E-KOKARI. The E-KOKARI platform lets agricultural workers use their cell phones to access information about crops, weather forecasts, market prices and other information relevant to farming or agriculture. It is as simple as dialing a number on a cellphone that will take the individual to a navigatable menu. The platform provides advice and information in all of Niger's primary languages — French, Hausa and Zarma. The information is also available in voice format. About 70% of the adult population is illiterate so access to spoken information is extremely helpful. The number of people with cell phones has grown over the years. In 2016, more than seven million cellphone users existed in a population of 20 million.
E-KOKARI is still in the prototype phase but has a promising future. Developers of the technology interviewed farmers to find out exactly what problems needed addressing and worked to make the technology sustainable. Moreover, the developers ensured that the technology was reproducible for communities in other countries.
Digital Agriculture Reduces Poverty
Digital agriculture reduces poverty because it makes farmers' lives easier. Similar to other sectors of society, technology can save time, increase productivity, lower costs and increase access to key information. As digital agriculture evolves and becomes more widespread, it is vital that creators pay attention to who the user is and what the user needs. Historically, marginalized groups such as women, differently-abled people and the elderly have greatly benefited from technology but frequently were not part of the production process. It is imperative that creators and producers of digital agriculture incorporate the voices of all potential users.
– Caitlin Harjes
Photo: Flickr
https://borgenproject.org/wp-content/uploads/logo.jpg
0
0
Kim Thelwell
https://borgenproject.org/wp-content/uploads/logo.jpg
Kim Thelwell
2021-04-24 01:31:38
2021-04-22 19:01:58
Digital Agriculture for Poverty Reduction