Fighting Violence Against Women: Eight Methods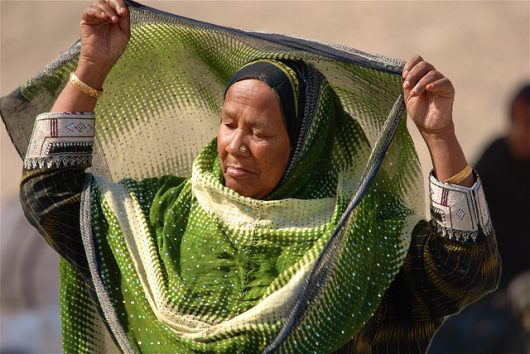 Gender-based violence is a human rights violation. The use of violence against women (VAW) and children as a war tactic is inhumane and a way for extremist men to keep women "in their place". Activists fighting for human rights often face considerable hostility, and many VAW activists recognize that creative activism along with a proclivity for affecting change from within goes a long way towards raising awareness of gender-based violence. While an innumerable number of people work tirelessly to bring positive changes to women's lives, these eight campaigns are creatively fighting violence against women.
Maps4Aid – India
India ranks eighth on WondersList's ten worst countries for women. The statistics are mind-numbing. Around 70 percent of women in India are victims of domestic violence. According to the National Crime Records Bureau, a woman is a victim of crime every three minutes, a woman is raped every 15 minutes, a dowry death occurs every 77 minutes and around 100 million women and girls are estimated to be victim of human trafficking. In a country with such staggering crime rates, P. Sheemer created the Maps4Aid app, which uses SMS and email to submit reports of any crime committed against women. This data helps map out the areas that are the most unsafe for women to travel in. Eventually, this data will be used to map out the most dangerous streets and areas across India and to press authorities to provide extra security measures in these areas.
MenEngage Alliance – Kenya
MenEngage Alliance is an initiative of international NGOs to involve men and boys in promoting gender equality. Gender equality cannot be achieved in isolation; men need to be a part of the solution. The campaign aims to educate and work with men and boys around the world to change their perceptions of masculinity and to learn healthier ways to relate to each other. In addition, the campaign also aims to advocate for newer and better laws to end VAW, including female genital mutilation.
The Burka Avenger – Pakistan
Creating alternative narratives in line with popular culture can be a powerful tool to reach a wider audience with maximum impact. This is one of the reasons why countries like India and Pakistan are using comic strips as tools to reach its younger generation. The Peabody Award-winning "Burka Avenger" is a children's cartoon series about a good-natured female Pakistani school teacher with secret martial arts training who dons a burka to tackle a range of issues, from discrimination against women to environmental protection to fighting polio.
Fathers' club – Haiti
Most gender-based violence campaigns exclude men. In Haiti, Rorny Amile, a father from Haiti, started a fathers' club to initiate a conversation on issues like meaningful consent and the importance of not using violence. The members receive training from CARE, an international organization with a mission to save lives, defeat poverty and achieve social justice. The organization spreads its message by going door-to-door in their community to talk to men about violence against women. According to Amile, "children see their fathers beating their mothers and some carry on the cycle of violence when they grow up. We're trying to show other fathers it's not okay to do that".
Bead Game – Worldwide
The international organization CARE is creatively fighting violence against women by designing innovative games that challenge societal taboos. The Bead Game is designed by CARE to address issues related to the age-old blame that women take on if they are unable to produce a boy. With the help of two colored beads representing the X and Y chromosomes, the game demonstrates how the father determines the sex of a child. These domestic and cultural misunderstandings often result in gender-based violence, a problem CARE is committed to ending through community outreach, education and simple activities like the bead game.
Paradise – Norway
Photographer Walter Astrada is known the world over for using photography as a tool to fight VAW. Recently, he took his fight to Norway to show the world that gender-based violence is not just a third-world problem; it occurs even in a country with an impeccable reputation as one of the wealthiest, safest, well- educated and most democratic countries in the world.
Affordable Wood-Fired Stoves – Sudan
Zam Zam camp in North Darfur is home to 200,000 refugees fleeing the civil war in Sudan. The women of Zam Zam risk rape by Sudanese militiamen every time they leave the camp to collect wood for their cooking fires. If they chose otherwise, they would have to spend scarce money on firewood. Ashok Gadgil worked with Darfuri women and other engineers to create an affordable wood-fired stove that uses less wood. The stove reduced assaults, saved families money and made the homes of thousands of refugees healthier by considerably reducing carbon emissions.
Orange Day – United Nations
In light of the recent barrage of cases of gender-based violence, the United Nations designated the 25th of every month as "Orange Day." The UNiTE campaign, started by the United Nations Secretary-General's, is dedicated to raising awareness and ending VAW. Orange Day is creatively fighting violence against women by calling upon everyone to mobilize people and highlighting issues relevant to preventing and ending VAW every month.
– Jagriti Misra
Photo: Flickr
https://borgenproject.org/wp-content/uploads/logo.jpg
0
0
Borgen Project
https://borgenproject.org/wp-content/uploads/logo.jpg
Borgen Project
2017-09-18 01:30:24
2020-06-29 16:48:32
Fighting Violence Against Women: Eight Methods