Combating Rice Farmer Poverty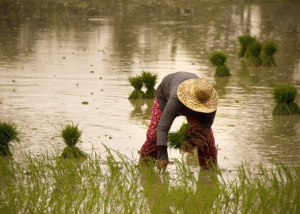 Rice is a universal food staple, featured in dishes from across the globe, feeding the rich and poor alike. It has the second-largest cereal market in the world, only second to corn. Over 470 million tons of rice were harvested in 2017, and that number continues to grow, with a harvest of 495.9 million tons predicted for the 2019 season.
Despite the massive rice market, many rice farmers live in poverty. Nine hundred million of the world's poor depend on rice either as a consumer or producer, with 400 million directly engaged with growing rice. The majority of these farmers are based in Asia, the heart of the global rice market.
Technological Improvements Reduce Rice Farmer Poverty
The rice crop is notoriously demanding on the environment, requiring an immense volume of water, especially when grown at high intensity. Rice farming consumes over half the freshwater in Asia. Much of the focus on improving rice production lies in reducing the amount of water used. Organizations, such as the CGIAR Research Program, have advocated the use of alternate planting systems, such as the Alternate Wetting and Drying system (AWD), which can reduce water consumption by up to 30 percent.
Greater water efficiency means greater productivity for farmers. Production costs are lower, so farmers profit more from their harvest and can afford to sell their crop for less, allowing those in deep poverty to afford rice. AWD has been shown to increase farmer income by 38 percent in Bangladesh, 32 percent in the Philippines, and 17 percent in Vietnam.
Not Just Rice
Even in areas with a booming rice market, rice farmer poverty continues. The Greater Mekong Subregion (GMS) spans six Asian countries, including China and Vietnam, and accounts for 44 percent of global rice exports. The six countries, save China, of these nations are net producers—they produce and export more rice than the nation can consume. Despite this, poverty stands at 19 percent across the GMS, and 15 percent of the population is malnourished.
There has been much improvement. GMS-member Cambodia, for example, has undergone a 35 percent decrease in poverty since 2004. However, much of it is unstable. Past expansions in the GMS rice-production have relied on favorable weather conditions, massive increases in farmland, and far-reaching use of fertilizer. These conditions are not favorable for agricultural or economic growth, with increases in land production outpacing that of productivity, 8.7 percent to 3.4 percent between 2004 and 2012.
The GMS and other rice-producing regions are now changing policy to focus on diversifying crops. The International Rice Research Institute (IRRI) encourages farmers to convert rice-rice and rice-wheat plants to rice-maize plants, which will allow farmers to optimize their resources, widen their range of income inputs, and reduce the risk of crop disease. Studies have shown that planting disease-vulnerable rice crop and disease-resistant crop together results in 89 percent greater yield.
This measure may also be needed in the more distant future. Though rice will always be a world staple, Asian consumers may begin to purchase more vegetables and meat as they grow wealthier, decreasing the world demand for rice.
Genetic Modifications
With rice featuring so heavily in the global diet, rice developers have prioritized the quality of rice grown, both in resilience, and health benefits. The Research Program on Rice and IRRI both work to improve the quality of rice seeds provided to rice farmers. In Africa, AfricaRice has lifted 8 million out of poverty with their improved seed quality.
By using a greater variety of improved seeds, farmers of 16 sub-Saharan countries were able to vastly improve their yields. Forty-five percent of farmers saw themselves lifted out of food insecurity following the 2008 food crisis.
Improvements in agriculture and the betterment of rice farmer poverty go hand in hand, and as one improves, the other will, as well. There's been significant progress already, with the rice market acting as an escape from food insecurity for millions. There is still much work to be done, but organizations like the IRRI make steady progress to a healthier, wealthier world.
– Katie Hwang
Photo: Flickr
https://borgenproject.org/wp-content/uploads/logo.jpg
0
0
Jennifer Philipp
https://borgenproject.org/wp-content/uploads/logo.jpg
Jennifer Philipp
2019-10-03 17:46:25
2019-10-27 06:28:14
Combating Rice Farmer Poverty