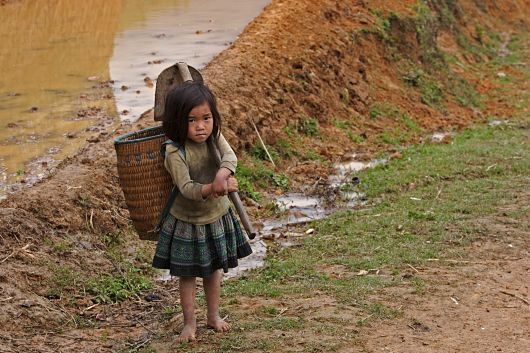 Over 1.75 million Vietnamese children, 9.6 percent of the population of people under 18 in the country, are laborers. Child Labor in Vietnam consists of children who are forced to work long hours, normally with little to no pay, in crowded factories or on agricultural farms. One third of the children work an average of 42 hours per week, and the majority are not able to attend school.
Labor trafficking — both domestically and internationally — is a major problem. As explained by a BBC report, trafficking gangs normally target rural villages, where they offer to take kids to cities in order to give them vocational training or technical skills. Parents normally agree because the people in these remote communities are not aware of the risks of human trafficking. Also, traffickers benefit from the "golden egg" culture of Vietnam, where children are sent to work abroad and send money back for the family.
Rather than receiving vocational training, the children taken from rural villages are forced to work, some in factories, some in domestic labor and others in agricultural labor. BBC discussed the case of Hieu (who declined to give his real name), an 18-year-old boy who was taken from the rural village of Dien Bien. Dien Bien is in the northwest, on the border of Vietnam and China. It is one of the poorest areas in the country.
Hieu was put into a small room, where he and the 11 other kids taken from his village were forced to work from 6 a.m. until midnight. They received no pay, and were beaten with a stick if they made a mistake. Hieu was finally able to escape when he and two other teenage boys jumped out the third story window at 1 a.m. Hieu has since been helped by the Blue Dragon Foundation, a Vietnamese-based charity that works to help child trafficking victims, and is now training to be a mechanic.
Groups like the Blue Dragon Foundation are making a difference. The foundation itself has rescued over 230 child trafficking victims since 2005. However, child trafficking continues to remain an issue in Vietnam, and Blue Dragon co-founder Michael Brosowski explained that it is likely getting worse because people are realizing how lucrative it can be.
Vietnam has been praised for its efforts to crack down on child trafficking internationally, since it has increased the number of prosecutions it holds to help end overseas gang activity. However, Vietnam's control of child trafficking within the country itself needs to increase. Internal trafficking only became officially recognized in 2011, and traffickers are normally not given harsh punishments. The person who trafficked Hieu and the 11 other children from Dien Bien was fined $500 and his factory was closed down, but he did not go to court.
Part of the confusion over what sort of punishment must be given those who traffic internally in Vietnam stems from the fact that some child laborers are paid. While they are normally paid only a small amount, some argue that if a child who is poor, does not have enough to eat and had dropped out of school goes to a factory and gets paid, it is not necessarily a bad thing.
While there is still debate over trafficking within Vietnam, it has been more firmly established that trafficking Vietnamese children internationally needs to be stopped. As The Guardian said, one of the major destinations for traffickers who send Vietnamese children abroad to work is Britain, where over 3000 children are sent to work on cannabis farms, in nail bars, garment factories, brothels or in domestic labor. In order to combat this influx, in March of 2015, the UK passed a bill designed to increase the prosecution of traffickers and give more rights to those sent into modern slavery. However, some Vietnamese children who are sent to the UK and forced to work in cannabis cultivation are prosecuted for their actions, while their traffickers are not.
In recent years, a lot has been done in order to stop child labor within Vietnam and to stop the flow of Vietnamese children who are being trafficked into modern slavery around the world. However, in order to continue the fight against child labor and human trafficking, laws have to be more strictly enforced and clear conditions have to be set about how to punish those who traffic internally.
– Ashrita Rau
Sources: BBC, The Guardian 1, The Guardian 2, Stop Child Labor: The Child Labor Coalition, Vietnam: The US Embassy, International Labour Organization
Photo: Sapa Trek
https://borgenproject.org/wp-content/uploads/logo.jpg
0
0
Borgen Project
https://borgenproject.org/wp-content/uploads/logo.jpg
Borgen Project
2015-07-24 19:20:36
2020-07-06 14:27:05
Child Labor in Vietnam