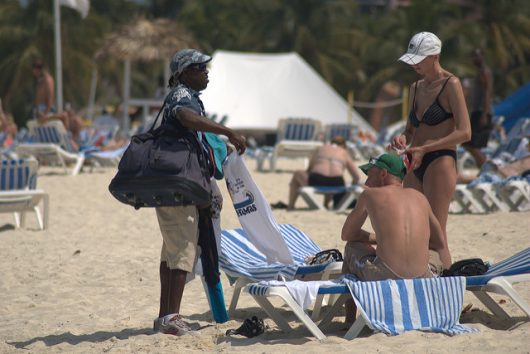 Upon mention of its name, this Caribbean nation evokes thoughts of picturesque sandy beaches with luxury resorts lining the coast. These images are not inaccurate, however they fail to capture the full scope of life in the Bahamas.
Consider that the Bahamian government has set the poverty line at $4,247 of yearly family income. This number places 13 percent of Bahamians in the category of "poor." The reality of this situation is that even those who aren't below the poverty line face harsh living conditions, as the cost of living continues to rise. Minimum wage in the Bahamas amounts to $210 per week, or $10,920 per year, which is still not enough for most Bahamians to support themselves and their families.
So, what are the causes of poverty in the Bahamas? What conditions in the Bahamas are preventing the growth of a strong working middle class?
One answer to these questions is tourism. Already, 49 percent of the country's citizens are employed by the tourism industry. However, the critical flaw in this system is that a majority of the jobs available to young Bahamians within the tourism industry are unskilled labor. These jobs, for the most part, pay minimum wage and don't provide young Bahamians with the opportunity to generate significant savings.
Lack of livable wages consequently results in many Bahamians facing household food shortages. As a response to this issue, in 2008, a group of Bahamian students joined together to create Hands for Hunger, a non-profit organization dedicated to ending hunger in the Bahamas. This group looks to communities within the Bahamas and asks them to contribute their efforts towards feeding the hungry. Hands for Hunger works with local restaurants, farms, hotels and anyone else capable of lending a helping hand by donating food or resources. To date, Hands for Hunger has facilitated the donation of one million pounds of fresh food to Bahamians in need.
Looking even deeper, poverty in the Bahamas is also affected by the educational system. Underfunded school systems perpetuate a system of education which lags greatly behind the rest of the developed world. The national exam system used to evaluate Bahamian secondary school students is known as the Bahamas General Certificate of Secondary Education (BGCSE). With students receiving a disappointing average grade of D on from the BGCSE's introduction in 1993, the Bahamian education system is producing young adults who cannot become employed due to a system that has failed them. Access to proper education is a vital necessity for the growth of a strong generation of young leaders.
Due to multiple factors which can be seen as causes of poverty in the Bahamas,the island nation's people are looking to the international community for support now more than ever.
– Tyler Troped
Photo: Flickr
https://borgenproject.org/wp-content/uploads/The_Borgen_Project_Logo_small.jpg
0
0
Borgen Project
https://borgenproject.org/wp-content/uploads/The_Borgen_Project_Logo_small.jpg
Borgen Project
2017-09-25 07:30:17
2019-12-18 15:13:13
Addressing the Causes of Poverty in the Bahamas