Addressing Three Main Causes of Poverty in Guadeloupe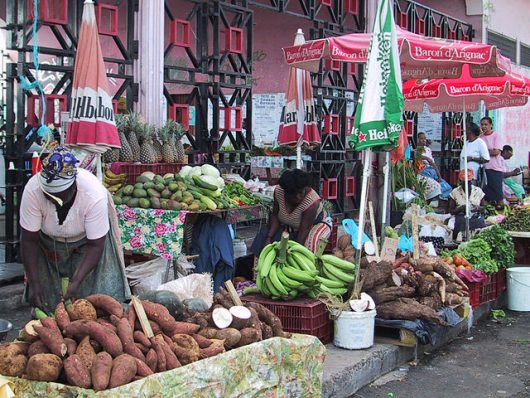 Poverty in Guadeloupe has been severe for over a decade. Multiple factors contribute to the French territory's 12.5 percent poverty rate, including natural disasters, a poor job market and a high crime rate.
Disasters
Guadeloupe is in an island region located in the Caribbean, which means that it is located in an area that is plagued by natural disasters. The region was hit by Hurricane Dean in 2007, which destroyed an estimated 80 percent of the banana crop. This was devastating to the country, as bananas are one of Guadeloupe's three top exports, in addition to sugar and rum.
According to the U.S. Geological Study, Guadeloupe was also struck by a magnitude 5.7 earthquake in 2014. Along with earthquakes and hurricanes, Guadeloupe regularly faces clouds of ash from Montserrat's volcano. These clouds can block the sun, damaging the production of all of their crops, which greatly affects their economy.
Since Guadeloupe is prone to such natural disasters, efforts have been made to help these affected areas more effectively and efficiently. One of the first steps, taken in 2003, was to establish a flood forecasting support service, as flooding can be caused by hurricanes and earthquakes, two of the most prevalent natural disasters. Guadeloupe also has Regional Health Agencies that have divided themselves between the three territories, including the two new communities in Saint Martin and Saint Barthelemy, to help provide health care to those who face injury in disasters.
Poor Job Market
One of the biggest aspects of a strong economy is a stable job market. Unfortunately, as of 2010, roughly 23.5 percent of the population in Guadeloupe was unemployed. With nearly one in four people jobless, unemployment is one of the major causes of poverty in Guadeloupe.
Even those who have jobs continue to face problems. In 2009, nearly 50 unions gathered together under the Collective against Extreme Exploitation to protest for weeks for higher living wages, adding €200 $250 to base salaries. These protests caused widespread issues, as supermarkets and government offices closed and a food shortage spread across the nation. The Collective's demands were finally met on March 4, 2009 and $216 million of aid was sent from France.
Crime
Guadeloupe is also facing a high rate of violent crime. According to the United Nations Office on Drugs and Crime report, in 2009 the homicide rate in Guadeloupe was 7.9 percent per 100,000 people, which is higher than the United States', at 5.01 percent the same year. Crime has continued to rise since then, and in September 2016 France sent 70 police officers to help stop the crime that was devastating Guadeloupe. France hopes to protect its citizens, and to help restore Guadeloupe's status as a tourist attraction where tourists can feel safe.
With all these causes culminating to create poverty in Guadeloupe, it may seem like there is little hope. However, Guadeloupe has been on a resurgence and its efforts to rebuild are taking effect. For example, before Hurricane Irma hit in the beginning of September 2017, France had already mobilized military and health care personnel so that they were stationed in Guadeloupe to provide help after the storm. This effort made a lasting impact on Guadeloupe and its people, sparing many lives. With continued support from France, the people of Guadeloupe will be able to move out of poverty and thrive as a nation.
– Scott Kesselring
Photo: Google
https://borgenproject.org/wp-content/uploads/logo.jpg
0
0
Borgen Project
https://borgenproject.org/wp-content/uploads/logo.jpg
Borgen Project
2017-09-27 01:30:55
2020-07-16 17:51:06
Addressing Three Main Causes of Poverty in Guadeloupe