How to Become an International Aid Worker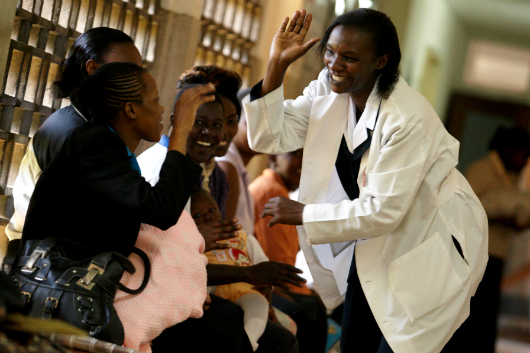 Thinking of becoming an international aid worker? Concerned about world issues like human rights, sustainability, agriculture, industrial development and natural disasters? Want to help people around the globe who need healthcare, housing, sanitation, education and relief from natural disasters?
Thousands of people with such noble ideals and ambitions are at work in developing countries. Their paths to working abroad were probably quite varied and more horizontal than vertical for a number of years before they headed overseas. Here is some other essential information to consider before planning a career as an international aid, development or humanitarian worker.
The first step is earning a degree. Like any other job, it should be in a field of strong interest that builds knowledge and develops talents and skills. The subjects most relevant to international aid work are sociology, social policy, human rights, languages, economics, sanitation and logistics. Workers with degrees in medicine, nursing, healthcare and water engineering are currently in high demand.
After earning a degree (in fact, more importantly than having a degree), one must acquire relevant experience. In reality, it is the most viable entry path to these highly competitive jobs. Because it is a catch 22—needing experience to acquire a job but needing a job to acquire experience—many beginners start as volunteers or interns in charities, nonprofits, and volunteer or nongovernmental organizations. Obviously, self-funding is necessary at this stage.
These experiences provide the training needed to move up because most organizations do not have the funding to provide extensive training programs. However, Oxfam International and the United Nations are two organizations that do provide structured internships and graduate development programs.
Once some experience has been acquired, next steps vary greatly. It is necessary to be open to changing career paths, as development needs change. Some typical work activities at this phase include hands-on project management, conducting needs assessments and organizing fundraising.
It may be that an advanced degree or some short courses will provide the necessary skills to progressing on the path to a desired position. For example, engineers, health care workers and disaster relief workers require advanced degrees and special skills. The same is true for people in microfinance and logistics. It is equally necessary to change organizations often in a horizontal or zigzag path in order to gain varied and relevant experiences.
After 10 to 15 years, it becomes possible to work in a higher level capacity. In this phase, consulting, general leadership development, policy and strategy development, or budget control are some of the possible responsibilities. These positions, whether domestic or international, are highly competitive, but they usually allow longer commitments and require less mobility.
No matter the degree, skills or experiences needed to become an international aid worker, it is also essential to begin with certain personality traits. These characteristics include: willingness to work more than 40 hours a week on a somewhat unpredictable schedule, ability to communicate with a variety of people, capacity to work under pressure and willingness to travel and live in basic conditions.
Working in the international aid field has its ups and downs like any other field. However, the entry and career paths are very different. International aid workers are among the most intelligent, skilled, resourceful and hardworking people in the world. They also have the satisfaction of knowing that the world is a better place because of the work that they do.
– Janet Quinn
Sources: All About Careers 1, Prospects 1, All About Careers 2, Prospects 2, All About Careers 3, Prospects 3, Humanitarian Jobs
Photo: One
https://borgenproject.org/wp-content/uploads/logo.jpg
0
0
Borgen Project
https://borgenproject.org/wp-content/uploads/logo.jpg
Borgen Project
2015-07-09 09:43:12
2020-07-10 19:50:56
How to Become an International Aid Worker