African Perspective on Foreign Aid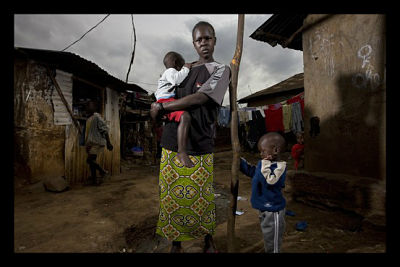 Does aid hurt Africa? When considering foreign aid in developing countries, the perspective of those receiving the aid is very often overlooked. The focus tends to be on those developed countries that give aid: why they should give aid, how they should give aid, and where it is most needed. This focus entirely disregards the attitudes and concerns of those receiving aid, government leaders and citizens alike. Discovering more on this perspective could in fact be key to assisting these nations in the most effective way possible.
According to Thompson Ayodele and other experts, Africans are for the most part skeptical about many of the initiatives put forward by western donors and international organizations. This skepticism is founded in the fact that many multibillion-dollar initiatives put in place by the United Nations have "fizzled" and left the African continent with small percentages of economic growth. In 2005, after $500 billion in foreign aid from 1960-1997 had been funneled into Africa, the budgets of some countries like Ghana and Uganda had been more than 50% aid-dependent.
It is interesting to note, however, that now in 2013, Ghana is among those countries that have met targets of the Millennium Development Goal before the 2015 deadline. The country as a whole has cut the number of hungry people by half as well as reduced to half the number of undernourished people between 1990-92 and 2010-2012. The GDP per capita has nearly doubled since 2005.
Still, there are other problems to consider other than the economic goals being achieved. David Karanja, a former Kenyan member of parliament, for example, has said that "Foreign aid has done more harm to Africa than we care to admit. It has led to a situation where Africa has failed to set its own pace and direction of development free of external interference." The truth is that the majority of those giving aid or lobbying for aid have no experience with the reality of life in Africa or how this aid is really being put to use. Those who possess such experience should be brought to the forefront of the discussion.
A big problem that foreign assistance often encounters is corruption and the lack of transparency from governments, organizations, and corporations. This is why a commitment to transparency must be made in order to work around those who would funnel aid money away from where it is sorely needed. The important thing to take away from this differing perspective is the focus on making aid as effective as possible by creating strategies to circumvent corruption and commit to transparency in trade, taxation, and government processes. In order to assist in the most efficient way, it is imperative that we take into account the real needs and desires of those we are attempting to aid, rather than competing to see who can donate the most to the cause.
President Alpha Conde of Guinea weighs in on the topic commenting that they "do not want to live in dependence on the generosity of others when our resources can make us prosperous and strong."
Impact of Foreign Aid on Africa and the World
In 1990, nearly half of the population in developing regions lived on less than $1.25 a day. This rate dropped to 14% in 2015.
The total number of people living in extreme poverty has declined by more than half from 1.9 billion to 836 million.
The number of underfed people has been almost cut in half from 23.3% to 12.9%
Primary school enrollment has risen to 91% from 83%.
Sub-Saharan Africa achieved a 20% increase in primary school enrollment from 2000 to 2015.
The number of primary school-aged children who were out of school dropped from 100 million to 57 million over the past 15 years.
The literacy rate of those between 15 and 24 years old has risen from 83% to 91%.
The proportion of girls in school in Southern Asia has risen from 74 girls for every 100 boys to 103 girls for every 100 boys
Women now make up 41% of paid non-agricultural employments, an increase from 35%
The under-five mortality rate dropped from 90 to 43 deaths per 1,000 live births and the number of under-five deaths dropped from 12.7 million to almost 6 million despite the boom in global population
The number of globally reported measles cases declined by 67% since 2000 and measles vaccinations helped prevent nearly 15.6 million deaths
Maternal mortality declined by almost half
New infections of HIV decreased by approximately 40% since 2000
The use of Antiretroviral therapy by AIDS patients increased from 800,000 in 2003 to 13.6 million which has averted 7.6 million deaths between 1995 and 2003
Over 6.2 million malaria deaths have been averted since 2000
The tuberculosis mortality rate fell by 45% saving an estimated 37 million lives
Official development assistance from developed countries increased by 66% in real terms since 2000 and 5 countries (Denmark, Luxembourg, Norway, Sweden, and the UK) exceeded the 0.7% Gross National Income UN assistance target
Internet usage is up from 6% in 2000 to 43% in 2015 connecting 3.2 billion people worldwide
– Sarah Rybak
Source: Ghana Business News, Nation of Kenya, CATO, United Nations
Photo: The Wall Street Journal
https://borgenproject.org/wp-content/uploads/logo.jpg
0
0
Borgen Project
https://borgenproject.org/wp-content/uploads/logo.jpg
Borgen Project
2013-07-02 04:00:55
2020-08-21 10:54:30
African Perspective on Foreign Aid