3 Organizations Improving Food Security for Refugees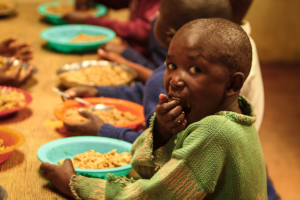 Around the world, a record number of people have become forcibly displaced due to violence, natural disasters or a variety of other reasons. According to the U.N. Human Rights Council, 70.8 million people are forcibly displaced, and 25.9 million of those are considered refugees. At the same time, millions of people lacked food security around the world. The Peace Corps defines food security as "when families are able to afford and obtain enough nutritious food." In 2018, more than 700 million people faced severe food insecurity.
Food security and refugee issues are deeply intertwined, as refugees are particularly vulnerable to becoming food-insecure. Worldwide, millions of refugees face food insecurity. Thankfully, many organizations are using their resources to create innovative solutions to provide healthy food to refugees who are not able to afford or access it. Here are three organizations that are improving food security for refugees:
African Women Rising
The Palabek refugee camp in northern Uganda hosts more than 38,000 refugees who have fled the brutal civil war in South Sudan. Humanitarian organizations have been struggling to find a long-term solution to food insecurity in the camp. While the Ugandan government allocates plots of land for refugees to farm on, these plots of land are usually too small for traditional farming techniques to work. However, the NGO African Women Rising (AWR) thinks it has found an innovative solution to malnutrition among refugees. In 2017, AWR introduced the camp to 30 by 30-meter plots of land known as "permagardens".
AWR's permagardens are specially cultivated in a way that allows them to maximize the number of crops, trees and plants that can be grown in them. It can take anywhere from a few months to a year to teach someone permagarden farming techniques. The total cost of developing, training and supporting a permagarden is just $85. The gardens primarily grow various fruits and vegetables, which provide vital micronutrients and vitamins that are not present in their monthly World Food Programme portions. Many other organizations are already starting to replicate the microgarden approach in refugee settings, including the U.N., the Danish Refugee Council and USAID.
Sunrise-USA
Sunrise-USA was founded in 2011 by a group of Syrian-American professionals and claims to be one of the world's leading humanitarian aid organizations focused on victims of war inside Syria and in refugee camps in neighboring countries. In addition, to providing food security for refugees, Sunrise-USA provides refugees with healthcare, orphan sponsoring services, education, water and sanitation. The organization also helps Syrian refugees, who are mostly Muslim, observe Islamic religious traditions such as Ramadan, Udhiya and Zakat.
Within Syria, Sunrise-USA works to deliver badly needed food baskets to besieged cities. These baskets typically contain chicken, eggs, dates, oils, margarine, tuna cans, sugar and powdered milk, and only cost $45 to produce. While the city of Aleppo was under siege, the organization delivered over 5,000 food baskets, as well as two containers of jackets, sweaters and mattresses. Sunrise-USA's "Feed Them" campaign has delivered food aid to 30,000 families in need and has provided milk and baby formula to 20,000 vulnerable families with children.
Action Contre La Faim (Action Against Hunger)
Action Contre La Faim (ACF) is a French organization that works in more than 45 countries to treat and prevent malnutrition. For more than 40 years, it has provided various forms of food aid where it is needed most. Its 7,500-member staff currently assists 21 million people worldwide. The organization has responded to various humanitarian crises that have generated large numbers of refugees, including the civil wars that have taken place in South Sudan and Syria, as well as the genocide of the Rohingya people in Myanmar.
In Bangladesh, ACF works to increase food security for refugees who have escaped into the country from Myanmar. Every day, the organization provides 83,000 hot meals and 551,497 liters of water to Rohingya refugees. The organization has also conducted malnutrition screenings for 100,000 Rohingya children and has diagnosed over 11,000 malnourished children. These malnourished children were then referred to ACF's emergency nutrition programs for treatment through mobile clinics.
As the global refugee crisis continues to intensify, more and more organizations will need to come together to provide both short-term and long-term solutions to food security for refugees. These organizations have shown they are more than willing to rise to this task and have each made a measurable impact on the wellbeing of refugees around the world.
– Andrew Bryant
Photo: Flickr
https://borgenproject.org/wp-content/uploads/logo.jpg
0
0
Kim Thelwell
https://borgenproject.org/wp-content/uploads/logo.jpg
Kim Thelwell
2019-08-30 18:14:03
2019-10-30 10:10:41
3 Organizations Improving Food Security for Refugees