10 Facts About Poverty in Bangladesh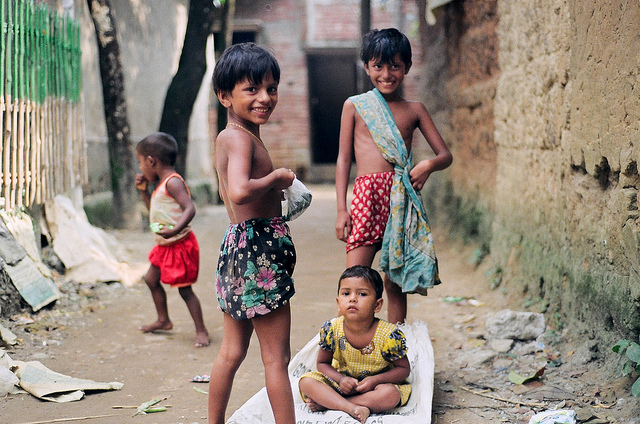 Although Bangladesh has existed as an independent state for less than 50 years, the cultural and linguistic roots of the Bangla, or Bengali, people are believed to have been established in the seventh century. Despite this rich cultural history, 31.5 percent of the population lives below the poverty line in Bangladesh today. The following 10 facts about poverty in Bangladesh give further context to this nation's economic struggles.
Poverty in Bangladesh Facts
At 31.5 percent, Bangladesh has the highest percentage of its population living below the national poverty line in South Asia. Nepal, India, the Maldives, Bhutan and Sri Lanka all have poverty rates lower than 25 percent.
Between 1947 and 1970, Bangladesh was a part of Pakistan and was referred to as East Pakistan. For various socio-cultural and political reasons, West Pakistan (which is just Pakistan today) practiced economic discrimination against East Pakistan. Between 1947 and 1970, East Pakistan received only 25 percent of the country's industrial investments and 30 percent of its imports, despite producing 59 percent of the country's exports.
When a Bengali independence movement began to gather momentum in 1970, West Pakistani leaders initiated a massacre of Bengali people. Now acknowledged as genocide, this massacre has become known as Operation Searchlight. It is estimated that anywhere between 500,000 and 3 million Bangladeshi people were killed during the genocide.
The oppression and tragic violence that heralded the nation's inception made for a particularly tough economic starting place. Since 1996, however, the Bangladeshi economy has grown by roughly 6 percent every year despite such roadblocks as political instability, poor infrastructure and slow implementation of economic reforms.
Almost half of Bangladeshis are employed in the agricultural sector, where rice is the most important product. Expert analysts at the World Bank asserts that a "shift in production from rice to higher-value crops will significantly reduce malnutrition, trigger more rapid growth in incomes and create more and better on-farm and non-farm jobs, especially for women and youth."
Garment exports are the backbone of the Bangladeshi industrial sector, accounting for over 80 percent of the country's exports in 2016. The sector continues to grow, though the industry has been troubled by highly-publicized garment factory accidents that have claimed the lives of more than 1,000 workers in recent years.
Although the official unemployment rate is listed as 4.1 percent, it is estimated that about 40 percent of the population is underemployed. Many individuals who only work a few hours a week for very low wages are officially considered employed, despite the highly insubstantial means available to them.
The Bangladeshi economy is highly dependent on remittances. Remittances from Bangladeshis working overseas accounted for about $15 billion and 8 percent of GDP in 2015.
Though the rates of poverty in Bangladesh are still far from ideal, steady progress towards its production has been shown. Between 2000 and 2010, poverty declined at a steady average of around 1.8 percent.
The World Bank's Bangladesh Poverty Assessment determined that the falling poverty rate could be attributed to growth in labor income and changing demographics, namely the decline in the birth rate. The resultant lower dependency rates meant increased average income per capita and poverty reduction.
Expert analysis of the Bangladesh Poverty Assessment indicates that poverty in Bangladesh will continue its slow but steady reductive trend with the implementation of several key economic reforms, which include investment in the skills development of its rapidly expanding workforce, coordinating multi-sector development and consolidating safety net programs to be better timed and tailored to the needs of the poor. Following through on these reforms will ensure that fewer people in Bangladesh are living in poverty in the future.
– Savannah Bequeaith
Photo: Flickr
https://borgenproject.org/wp-content/uploads/logo.jpg
0
0
Borgen Project
https://borgenproject.org/wp-content/uploads/logo.jpg
Borgen Project
2017-11-26 01:30:01
2019-12-23 07:54:56
10 Facts About Poverty in Bangladesh