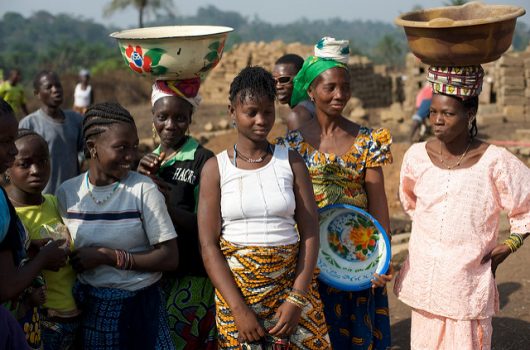 For more than  a decade, the water quality in Liberia has been a steady issue. In 2016, only 25 percent of the population had access to clean water. Currently, of the 4.5 million people populating the country, more than one million are unable to access safe drinking water.
According to World Bank, the water quality in Liberia has been an issue ever since the country's second civil war ended in 2003. For nearly 14 years, numerous Liberian citizens have been in vital need of access to clean water, but have failed to receive the assistance necessary to remedy the situation.
Unfortunately, many individuals living in Liberia have suffered from prevalent health issues due to the unsafe water conditions. In addition, many citizens are being forced to pay extra expenses daily so that they can buy clean water rather than rely on contaminated wells. In an article by FrontPageAfrica (FPA), a concerned citizen complained about the crippling effect of financial expenditures that she has been forced to make in order to buy clean water to do her laundry.
Research by WaterAid, an international charity dedicated to the access of clean water, shows that fewer than 20 percent of Liberians have access to sanitary toilets and more than 500 Liberian children die each year from diarrhea caused by unsanitary conditions. Additionally, 3.5 million people within the country have inadequate access to proper sanitation.
Chuchu Kordor Selma, WaterAid's team leader in Liberia, voiced her concern over this growing issue by inferring that the number one most important way to satisfactorily address the quality of water in Liberia is by sufficiently investing in the government sector. Furthermore, WaterAid has been steadily working throughout the last year to produce increased access to clean water and proper sanitary conditions within the country. Due to the organization's unfailing persistence, more than 12,000 Liberians have been provided with safe water and more than 10,000 have been provided with improved sanitary conditions.
– Lael Pierce
Photo: Flickr
https://borgenproject.org/wp-content/uploads/The_Borgen_Project_Logo_small.jpg
0
0
Clint Borgen
https://borgenproject.org/wp-content/uploads/The_Borgen_Project_Logo_small.jpg
Clint Borgen
2017-05-31 01:30:00
2020-03-15 20:59:58
Water Quality in Liberia and Access to Clean Water