USAID to Help Salvadorans with Youth Education Programs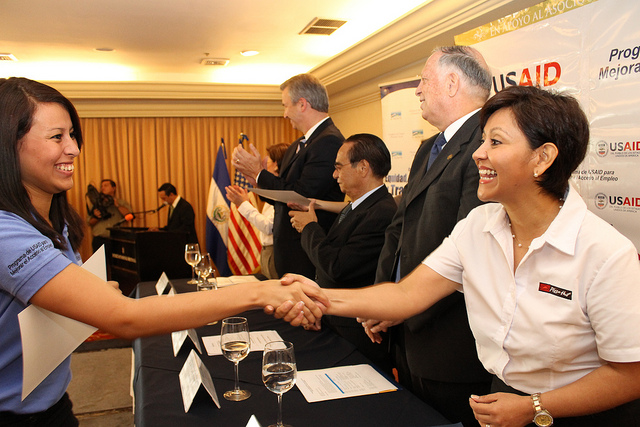 The U.S. Agency for International Development (USAID) is providing job training to equip Salvadorans with skills they can use for future employment and economic opportunities. Larry Sacks, the former USAID and El Salvador Mission Director, was in El Salvador in 1999 and was fearful of the violence that he experienced. He became aware that many Salvadorans are threatened by similar violence every day, and has since been part of USAID initiatives to help Salvadorans.
Youth are the primary victims of violence in El Salvador. Furthermore, many young people have a hard time accessing basic healthcare. Due to the low quality and limited access to basic health services, 41 percent of the HIV/AIDS cases in El Salvador are among young people age 15 to 19.
Poverty, along with the lack of education and job opportunities, forces youth to migrate across international borders to seek better opportunities. Most make their way to the United States,  however many enter illegally. As a result, they have limited access to healthcare and social security in the U.S. as well. This puts young adults at a higher risk of becoming a part of youth gangs, participating in criminal activities and substance abuse.
USAID provides aid that will help Salvadorans thrive, eliminating the need for high rates of migration to other states. USAID is partnering with the government of El Salvador, the Ministry of Education, private sector partners and higher education institutions in both the U.S. and El Salvador.
The activities provided are directed towards young adults at the lower secondary level, grades seven to nine, as they are most susceptible to dropping out of school and most vulnerable to joining gangs.
The education programs that USAID has provided in El Salvador, particularly in high-crime areas, help to keep more than 100,000 youth in school. By providing young Salvadorans with education and a safe environment, they are less likely to join gangs. Further, with USAID's new programs, over 20,000 youth have now received job training.
– Chloe Turner
Photo: Flickr
https://borgenproject.org/wp-content/uploads/logo.jpg
0
0
Borgen Project
https://borgenproject.org/wp-content/uploads/logo.jpg
Borgen Project
2017-11-01 01:30:12
2019-12-29 18:20:32
USAID to Help Salvadorans with Youth Education Programs