Tuberculosis Crisis Bridges North Korea and U.S. Hostility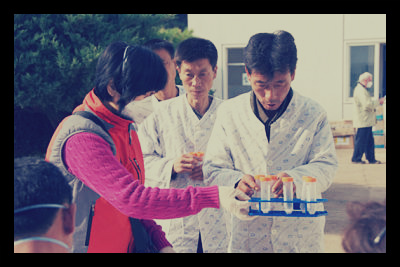 Despite the Democratic People's Republic of North Korea's penchant for holding Americans hostage and despising the United States on principle, the country has nonetheless reached out to a Stanford University-led research team to help solve its mounting tuberculosis (TB) crisis.
North Korean doctors first approached Stanford Medical School and California-based tuberculosis experts in 2008. Since that time, the North Korean government has invited members from the Stanford Medical School to address the state of TB in the country, the worst in the world outside of sub-Saharan Africa.
Tuberculosis affected 8.6 million people in 2012 and claimed 1.3 million lives. While it is largely eradicated in industrialized societies, the respiratory disease still affects developing countries located in Southeast Asia, Africa and the Western Pacific.
North Korea's problems with TB arose in the 1990's, when the country was wracked with floods, droughts and ultimately wide-spread famine after the Soviet Union's collapse in 1990. Without aid from their former Communist ally, widespread malnutrition overwhelmed the country's inhabitants, resulting in upwards of 2.5 million starvation related deaths.
Improper nutrition coupled with few medical supplies led to a resurgence of TB in the country. In 1998, the Ministry of Public Health began implementing Directly Observed Treatment Short (DOTS) course, a repetitive and now defunct method of TB treatment.
Unlike other regions that evolved their treatment methods (like sub-Saharan Africa,) North Korea continued use of DOTS resulted in Multi-Drug Resistant Tuberculosis (MDR TB,) particularly virulent strains of the disease that do not respond to basic antibiotic therapy.
Although North Korea does not keep drug-resistance records, a report by Eugene Bell, an NGO specializing in patient relapse, revealed large numbers of TB relapse in North Korea, signifying particularly high levels of MDR TB.
"We had anecdotal information from North Korean doctors, who were right on this one. They weren't able to diagnose drug resistance, but they could see what happens when they treated people with drugs and they came back," says K.J. Seung, a Eugene Bell doctor and author of the MDR TB report in the Public Library of Science. "Now we have original scientific data that clearly documents drug resistance."
The notoriously xenophobic regime's plea for help has resulted in the 2013 installation of North Korea's first diagnostic laboratory to test drug-resistant MDR TB. In collaboration with the TB Consortium and the Nuclear Threat Initiative, a nonprofit working to strengthen global security, the team is dedicated to improving North Korea's treatment facilities and teaching North Korean doctors modern methods of controlling the disease.
The invitees must remain apolitical and are constantly monitored by minders, government-appointed tour guides that 'mind' what one sees and does in the hosting country. Despite these constrictions, researchers have continued their efforts to bolster MDR TB resistance efforts, noting the health of North Korea and the world depends on their efforts.
– Emily Bajet
Sources: Global Post DDN News, Stanford, Stanford, Stanford Medical School, North Korea Now, Mother Board, World Health Organization
Photo: Vice
https://borgenproject.org/wp-content/uploads/logo.jpg
0
0
Borgen Project
https://borgenproject.org/wp-content/uploads/logo.jpg
Borgen Project
2014-02-06 12:03:52
2017-10-31 09:38:40
Tuberculosis Crisis Bridges North Korea and U.S. Hostility