Top 10 Facts About Living Conditions in El Salvador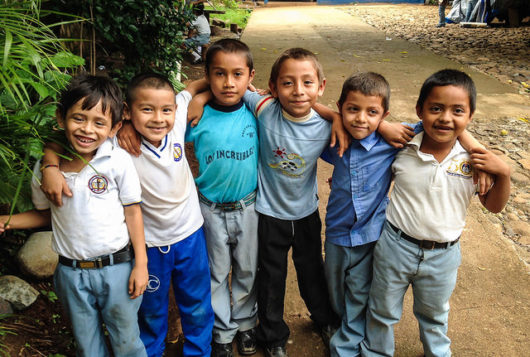 El Salvador is the smallest country in Central America, bordered by Guatemala and Honduras. It is about the same size as the state of Massachusetts with a population of 6.4 million people. Most of the country overflows with mountains and rainforests, while one side is bordered by the Pacific Ocean, possessing miles of sandy beaches. El Salvador is a unique country filled with vivid culture, people, and beauty. In the article below, a list of the top 10 facts about living conditions in El Salvador is presented.
El Salvador has an extremely dense population. As of 2016, the population density was about 306 people per square kilometer of land. This creates overcrowded living situations, squeezing huge families into tiny houses. As a result, for low-income families, alleyway houses are created in rows of up to 50.
The education level remains extremely low. Many children do not end up attending secondary school due to financial or economic reasons. Most families cannot afford to send their child to school and other children must work in order to help support their families. Almost 20 percent of males and 25 percent of females aged 15 or above cannot read or write.
El Salvador has one of the highest rates of crime and murder in the world. The country has been labeled, "the most violent in Latin America." From 2014 to 2017, about 20,000 people were murdered as a result of gang violence. The gangs are active in 94 percent of the country and run as a continuous threat to children, families and business owners.
Agriculture plays a key role in the economy of the country. Agriculture employs about 25 percent of the country's labor force and meets about 70 percent of the countries food needs. The top agricultural exports include coffee and sugar. Having the country's mild climate and fertile soil in mind, it is safe to say that these exports will continue to provide a steady income.
El Salvador is extremely prone to natural disasters. Due to its location in a very seismically active region, the annual average loss from earthquakes for the country is about $176 million or 0.7% of the country's GDP. Floods, tropical storms and volcanoes have also been known to displace many families.
Although poverty is a persistent issue, it has been declining over the past decade. The poverty rate declined 8 percent from 2007 to 2016. The extreme poverty rate also declined 5 percent over the same time period. This was a result of several factors, most notably increased salary and economic growth.
El Salvador struggles to provide quality and adequate health care to its people. This is directly associated with a low level of income of most individuals and families. Upon illness, these people are unable to receive the proper medical care they need. The health care system was ranked poorly, coming in at 115th place out of 190 different countries' health care systems around the world.
Because of the overall low-income levels, the housing situation is evidently affected. In urban settings, most of the homes are made up of bricks and cement. They are extremely small, averaging about 480 square feet, sometimes even for very large families. In the slums, most of the houses are huts made with aluminum sheets, cardboard and plastic.
About 1.8 million minors between the age of 5 and 17 are forced to work. Often times these children are placed in unsanitary or dangerous work environments just to earn a few dollars for themselves and their families.
In 2016, the World Bank Group proposed a new Country Partnership Strategy for El Salvador. This initiative focuses on several areas including economic growth, education and employment. It was created to work with and support the government's ambitious agenda for change.
The top 10 facts about living conditions in El Salvador open the door for several improvements and changes the country has the opportunity to make over the next few years. Slowly but surely, El Salvador is developing better living conditions for its people.
– Savannah Huls
Photo: Flickr
https://borgenproject.org/wp-content/uploads/logo.jpg
0
0
Kim Thelwell
https://borgenproject.org/wp-content/uploads/logo.jpg
Kim Thelwell
2019-02-20 19:30:36
2019-11-21 10:48:26
Top 10 Facts About Living Conditions in El Salvador