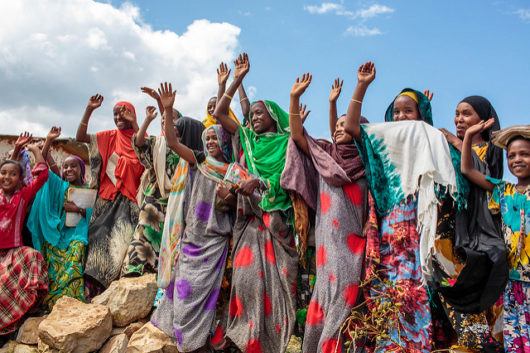 Gender disparity in education and lack of opportunity for girls worldwide create an inequality tide difficult to turn in different direction.
Ethiopia is among the 10 lowest-literacy countries in the world, and the literacy rate for girls is much lower than for boys.
However, the top 10 facts about girls' education in Ethiopia reveal the efforts of many international and internal projects developing female literacy and expanding the networks connecting education sites.
Research shows that as more gender-sensitive education advances, higher education of women becomes possible, supporting social change, decreasing the gender gap, fostering more female teachers and building self-reliance and self-esteem.
Top 10 Facts About Girls' Education in Ethiopia
According to UNESCO, one out of three children in sub-Saharan Africa is out of school, and girls are more likely to miss education than boys. Ethiopia follows this grim description, with only 31 percent of the total adolescent population enrolled in secondary education in 2015. Only 47 percent of females aged 15-24 years old are literate, compared to 63 percent of males the same age.
In 2014, completion of the last grade of primary education was slim, with boys completing at 37 percent and girls finishing at 39 percent. These numbers show that girls are more likely to complete primary school once enrolled.
The nation has one of the highest primary school enrollment rates in Africa. Percentage of girls enrollment in primary schools was around 60 percent in 2015, a huge increase from 19 percent of girls who enrolled in the same education level in 1990.
Total government expenditure on education in 2015 was 4.7 percent of GDP and has fallen by more than 1 percent since 2012. The World Bank's data shows the government is still developing ways to support sustainable education as Ethiopia depends more on its infrastructure.
Socio-cultural factors include poverty and displacement. Often times, the students' families cannot afford school supplies or afford to live far away from any educational facilities. Refugee families often must prioritize food and shelter above school fees. The organization Girl Up partners with the U.N. to bring solar lamps, supplies and scholarships to Somali refugee girls, also providing safe bathroom facilities for local schools.
The lack of female educators can affect girls' esteem since there are more men than women teachers in the country. Only 5.2 percent of women continue to tertiary school enrollment, as opposed to almost 11 percent of men. This means fewer women will go on to become professional teachers. In 2012, only 36.7 percent of primary school teachers were female. One-third of female teachers work in grades 1-4 in urban areas, only 11 percent of female teachers for grades 5-8 work in rural areas. Less female teachers exist in areas where girls need them the most.
Global Partnership for Girls' and Women's Education, an act initiated by UNESCO, aims to promote equality in education by working to inspire gender-sensitive teachers and encourage girls to complete higher education. As of 2014, girls' rates of academic performance increases in entrepreneurship, ITC skills, life skills and comprehensive sex education.
The education gender gap in the Benishangul-Gumuz regional state measures higher than the national average. A project titled Crowdsourcing Girls' Education cosponsored by the government and the Packard Foundation addresses this specific region. This project aims to empower 1,000 adolescent girls through educational programs. UNESCO also partners with country-wide organizations like the African Union – International Centre for the Education of Girls and Women in Africa (AU/CIEFFA), completing workshops with girls in vulnerable areas. The projects work to prevent gender-related violence at school, teach self-reliance and problem-solving and create safe environments.
The rates of early marriage and pregnancy are higher in rural areas of Ethiopia. Unable to continue school, pregnant girls in rural areas deal with poverty, inequality or discrimination, lack of education and facilities. As of 2013, 57.7 percent of girls were marrying before the legal age of 18. In a survey taken in 2015, 3.7 percent of girls aged 15-19 in rural areas were pregnant, compared to 0.6 percent of girls in urban areas.
In 2011, UNESCO launched the Better Life, Better Future Partnership, pursuing equality through programs including the gender-responsive education projects through a partnership with the HNA group and Hainan Chiang Foundation in China. These projects prioritize education accessible to all and purposefully work against school violence to create safe environments for girls. Spread throughout seven different sub-Saharan countries, the project in Ethiopia works to rebuild three higher learning institutions and 12 upper and secondary schools.
These top 10 facts about girls' education in Ethiopia illustrate the rates of female illiteracy and school dropout in schools and universities. The discrepancy between opportunities for boys and girls shows the amount of work still needed to close the gender gap.
However, more understanding of the issue leads to the government working with education programs and involving the community. Other beneficial steps include literacy programs and specialized schooling to build esteem for young women. The challenge lies in accessibility, policy and encouraging certain rural communities to embrace girls' education as essential.
– Hannah Peterson
Photo: Flickr
https://borgenproject.org/wp-content/uploads/The_Borgen_Project_Logo_small.jpg
0
0
Kim Thelwell
https://borgenproject.org/wp-content/uploads/The_Borgen_Project_Logo_small.jpg
Kim Thelwell
2018-12-29 13:30:06
2019-08-13 11:41:19
Top 10 Facts About Girls' Education in Ethiopia