Education System in Ethiopia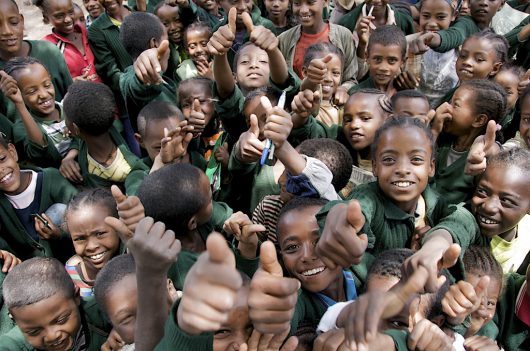 Even with one of the fastest growing economies in Africa, Ethiopia remains one of the poorest countries in the world. The education system in Ethiopia is less than satisfactory and while it is free and compulsory, only 60 percent of children are enrolled in full-time education.
Education in Ethiopia is compulsory for children between the ages of 5 to 16, but with poor facilities and underprivileged backgrounds, many children do not get a high quality, full-time education. In Ethiopia, 95 percent of primary school teachers receives training, which is higher than the world median of 92 percent. While the quality of teaching is high, the ratio of teacher to a child is 1:64, so children are not able to receive the attention that they need in order to reach their full potential.
Prior to secular education being introduced in the early 1900s, the Ethiopian Orthodox Church dominated education in Ethiopia. Before 1974, the Ethiopian literacy rate was below 10 percent. Since then, the emphasis has been put on increasing this rate and it now stands at 49 percent. Even though this is very low compared to the rest of the world, it is a massive improvement for education in Ethiopia.
Although education in Ethiopia has improved over past years, there are still many difficulties that exist within the system. Currently, core subjects such as science and maths are being taught in English. As this is neither the teachers' first language or the students, the concept of the subject gets lost in translation into Amharic.
Another downfall to education in Ethiopia is the lack of good governance. This occurs throughout the schools and universities across the country and puts the level of quality education at risk. And while the number of school dropouts has reduced, many students still finish school before reaching higher education, which limits their opportunity in the future.
Ethiopia joined the Global Partnership for Education (GPE) in 2004, which has since given grants in order to improve the level of education. Ethiopia has received four GPE grants over the course of 10 years and is currently in its third grant. Between 2014 and 2017, Ethiopia will receive $100 million in order to improve the quality of general education throughout the country.
Previous GPE funding has significantly improved education in Ethiopia. Now, each child in education has a textbook, and 60 percent of schools were inspected in 2015. Teacher training was also provided to 100,000 adults in order to increase the number of qualified teachers throughout the entire school system.
Now, the focus in Ethiopia is to keep children in school and progress to higher education and to reduce the number of school dropouts. This can be done through vocational education, such as technical vocation and education programs. This will ensure that even those who are not in education will receive some kind of training, and will be learning new or improving existing skills.
– Georgia Boyle
Photo: Flickr
https://borgenproject.org/wp-content/uploads/logo.jpg
0
0
Borgen Project
https://borgenproject.org/wp-content/uploads/logo.jpg
Borgen Project
2016-12-15 01:30:23
2020-05-20 15:43:40
Education System in Ethiopia