The Role of Grandmothers: The Heroes Everyone Overlooks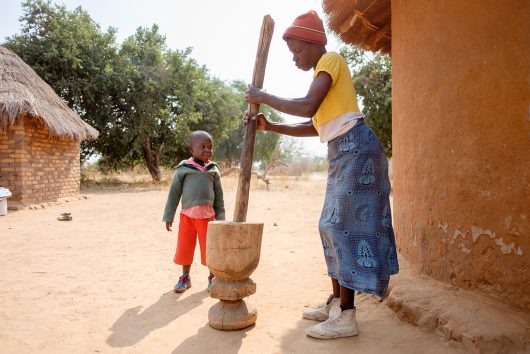 Working women have a lot for which to thank their mothers. Without the help of their mothers in the home, it would be difficult for young women to balance having a family with advancing in their careers. By taking care of their daughters' children, grandmothers give their daughters the time they need to work.
Researchers from the University of New South Wales claim grandmothers' childcare provision leads to a rise in their daughters' labor force participation (LFP). According to their research, "grandparents are the largest source of informal childcare" for working women. In Italy and Greece, almost 50 percent of grandparents provide daily care for their grandchildren.
Although passing the responsibility of childcare over to their parents gives women freedom and independence to pursue their careers, it creates a problem for grandmothers. Grandmothers, rather than young daughters, get saddled with having to balance work and family.
Madonna Harrington Meyer, author of Grandmothers at Work: Juggling Families and Jobs, argues, "In the same way that women who reduce employment hours when raising their young children experience reductions in salary, savings, and public and private pensions, the mothers of those same women, as grandmothers, are rearranging hours to take care of their grandchildren, experiencing additional loss of salary and reduced old-age pension accumulation."
Grandmothers do not only make sacrifices for their children and grandchildren in countries like Italy and Greece, but the role of grandmothers is very important in developing regions of the world as well. Veronica Nankya, a 93-year-old Ugandan grandmother taking care of her four grandchildren, told Daily Monitor Magazine that, after her children died of HIV/AIDS, life became very difficult because taking care of orphaned grandchildren is "an enormous duty," particularly when she has to be the sole breadwinner for the family.
These matriarchs have carried the brunt of the HIV/AIDS pandemic in Africa in multiple ways. They have not only taken up the responsibility of caring for the orphaned children of HIV casualties but have also cared for the millions of adult AIDS patients who have nowhere to go but their parents' homes.
Research by the World Bank shows grandmothers are "the managers of indigenous knowledge systems that deal with the development, care and well-being of women and children" in Latin America, Asia and Africa. Grandmothers, therefore, play an essential role in maternal and child nutrition, health and survival rates in these regions.
Community health specialist Dr. Judi Aubel claims that because the role of grandmothers is central in "advising younger women and male family members on nutrition and health matters, especially during pregnancy, childbirth and when children are infants or still young," they should be involved in national and international programs and policies targeting these issues. It is through grandmothers that new knowledge and better health practices can be transmitted to the rest of society.
UNICEF in Laos showed that when grandmothers were involved in health campaigns, great results were possible. For example, when grandmothers became involved in diarrhea treatment workshops, the proportion of families providing the necessary fluids to children went up from 30 to 74 percent.
The role of grandmothers in the developed and the developing world is different but crucial to their families. In the developed world, grandmothers provide the needed childcare that young mothers need to continue rising in their professions.
In the developing world, grandmothers are essential for the care of orphaned children and for advising young mothers on health issues. It is very important that in the future, grandmothers in both the developed and developing world are given the help they need so that they are not required to make so many sacrifices and carry such a heavy burden of responsibility.
For women's emancipation and empowerment to be complete, all women must have time for themselves and their own life regardless of age. It is not true women's empowerment if older women must sacrifice their own freedoms for those of their daughters.
– Christina Egerstrom
Photo: Flickr
https://borgenproject.org/wp-content/uploads/logo.jpg
0
0
Borgen Project
https://borgenproject.org/wp-content/uploads/logo.jpg
Borgen Project
2016-10-21 12:54:47
2020-05-30 09:44:21
The Role of Grandmothers: The Heroes Everyone Overlooks