The Clinton Foundation: Bill's Other Legacy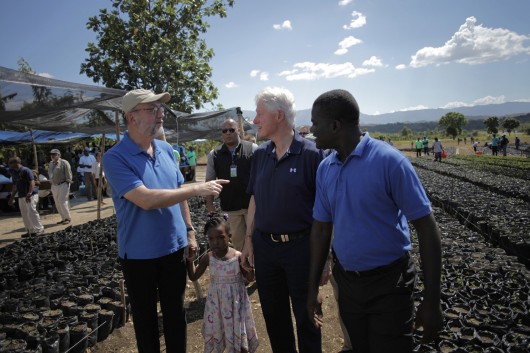 Bill Clinton will always be remembered first and foremost for his eight years in the White House, but he has another legacy that deserves just as much attention: The Clinton Foundation.
Founded in 1997 with a focus on Little Rock, Arkansas, the foundation has grown into an international powerhouse that has raised more than $2 billion to fund charity work around the world.
Like most ex-presidents, Clinton initially faded from the public eye. According to the Washington Post, he spent much of his time watching TiVo. Then, in 2002, he moved the Clinton Foundation to Harlem, New York, following Hillary Clinton's successful election bid for U.S. Senate.
The foundation brought in consultants from Booz Allen Hamilton to give advice to small business owners in the local community, and the projects piled on from there. Using his celebrity power, Clinton was able to consistently recruit top-notch partners. Besides Booz Allen, he also brought in Princeton Review to bolster local students' SAT scores.
It was not until 2002, however, that Clinton's international work began. He met an old friend, former President of South Africa, Nelson Mandela, at an AIDS conference. Mandela reminded Clinton of a promise he made while still in office, a promise to help Africa after he left.
That promise materialized into the Clinton Health Access Initiative (CHAI). According to the Clinton Foundation Website, CHAI has helped reduce the cost of lifesaving HIV/AIDS medication from $10,000 annually for one patient to only $100 to $200. This has helped over eight million people in developing countries, many of them in Africa, afford medication without which they'd die.
CHAI was so successful that it became its own organization, but the Clinton Foundation actively promotes nine other initiatives: the Clinton Climate Initiative, the Clinton Development Initiative, the Clinton Foundation in Haiti, the Clinton Glustra Enterprise Partnership, the Clinton Global Initiative, the Clinton Health Matters Initiative, the Clinton Presidential Center and Too Small to Fail and No Ceilings: The Full Participation Project.
The Clinton Foundation is unique in that its initiatives are its own. It consists of over 2,000 employees that serve both as administrators and field workers. As such, it operates more as a nonprofit consulting firm than a grant-making agency. A New York Times story from 2015, for example, reports that the group's work in Rwanda includes such diverse efforts as teaching farmers to double their yields, training nurses and specialists and supporting factories that turn soybeans into cooking oil.
Behind the power of the Clinton Foundation is Bill's celebrity. As ex-President of the most powerful country in the world, he truly is a star among stars. With this power, he has been able to raise funds that few others on Earth could hope to achieve and partner with the best organizations to put the money to good use.
As the 2016 presidential election approaches, increasing scrutiny is being paid to the foundation. With Hillary as the first female President and Bill as the first "First Man," some people would worry about influence-buying through the foundation. Still, the breadth and depth of the good work of the Clinton Foundation cannot be denied. Bill could've easily faded into the background after his presidency. Instead, he used his influence and recognition to benefit not just the United States, but the entire world.
– Dennis Sawyers
Sources: New York Times, The Clinton Foundation, The Washington Post
https://borgenproject.org/wp-content/uploads/logo.jpg
0
0
Borgen Project
https://borgenproject.org/wp-content/uploads/logo.jpg
Borgen Project
2016-04-03 01:30:30
2020-06-19 18:05:52
The Clinton Foundation: Bill's Other Legacy