The Aama Program: Maternal Health in Nepal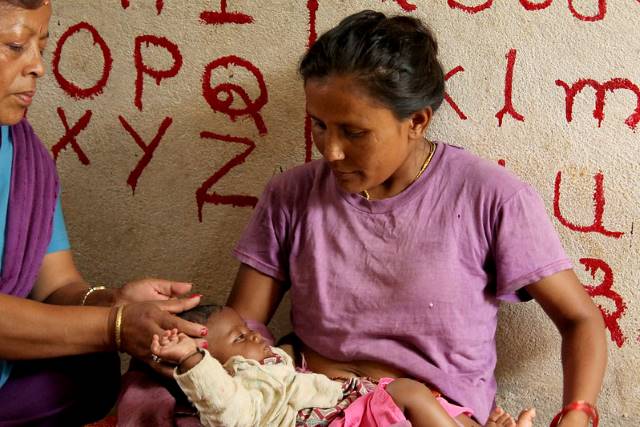 Maternal health is a pressing issue in developing countries as they often lack infrastructure and facilities to adequately care for pregnant women. Women often lack the incentive to use health service centers and choose to rather give birth at home, resulting in high maternal mortality rates. In Nepal, attempts to remedy this issue have led to a cash transfer scheme, which seeks to encourage pregnant women to use medical facilities to give birth by giving them a certain amount of cash to do so. Known as the Aama (or mother) program, the initiative aims to address Nepal's poor maternal health by making sure that more births are overseen by health professionals.
Overview of Maternal Health in Nepal
Nepal's healthcare system has long suffered from neglect due to civil strife and political instability. Despite this, it has seen an improvement in maternal health over the past few decades as more government attention has been spent toward this end. The country has received praise from the United Nations for its efforts in reducing its maternal mortality rate by almost three-quarters between the years 1990 and 2015, reflecting the government's commitment to addressing the issue.
These developments can be attributed in part to improvements in infrastructure and education, as better infrastructure makes health facilities more accessible and higher levels of education raise awareness of medical issues. Additionally, government programs were implemented to assist Nepali women in receiving better healthcare and offset potential costs of doing so. These smaller programs, which were consolidated in the Aama program in 2009, have been an important aspect of Nepal's attempt to improve maternal health.
The Aama Program
Predecessors to the Aama program were formed to address the issue of maternal health in Nepal. In 2005, the Safe Delivery Incentive Programme (SDIP) was introduced to pay pregnant women to use public health facilities to give birth. These payments vary based on region, reflecting the fact that women in remote parts of the country incur additional costs to access quality healthcare. As a result, women in the Himalayan regions of the country receive 1,500 rupees as these areas have a difficult terrain, and therefore, more costs are involved to reach medical facilities. Those in the middle hill regions receive 1,000 rupees because the terrain is still quite challenging. Those in the southern plains region receive 500 rupees as the land in this area is flat and easy to manage.
In 2009, the program was renamed the Aama program while a provision was added to provide reimbursement to health facilities and any costs associated with delivery services were removed. Finally, the program was further amended in 2012 to provide cash incentives for women to complete at least four antenatal care visits.
Since the inception of the program in 2005, there has been an increase in the usage of medical facilities to give birth. A study from 2005-2009 shows how this increase can be seen throughout every region of the country. Overall, births in medical facilities have almost doubled from 2006 to 2011 with an increase from 20% to 39%.
Room for Improvement
While Nepal has seen progress in increasing the usage of health facilities to give birth, there is still room for improvement. As of 2018, 58% of women still gave birth at home, even those with knowledge of the Aama program. This discrepancy can be explained by social and economic factors. For example, women who choose to give birth at home may do so because they are not comfortable with a hospital setting. Furthermore, women who are economically disadvantaged often receive substandard care. As a result, these women may still choose to give birth at home even after receiving a cash incentive to use a medical facility.
The Aama program is a promising initiative undertaken by the Nepalese government to improve maternal health in the country. It seeks to incentivize pregnant women to use health facilities to give birth rather than giving birth at home and risking complications. While Nepal has seen a decrease in maternal mortality over the past decade, the Aama program can be expanded even further by accounting for the various socio-economic issues women face.
– Nikhil Khanal
Photo: Flickr
https://borgenproject.org/wp-content/uploads/logo.jpg
0
0
Kim Thelwell
https://borgenproject.org/wp-content/uploads/logo.jpg
Kim Thelwell
2021-05-15 07:31:46
2021-05-12 14:52:52
The Aama Program: Maternal Health in Nepal