How Shoes Can Eliminate Preventable Diseases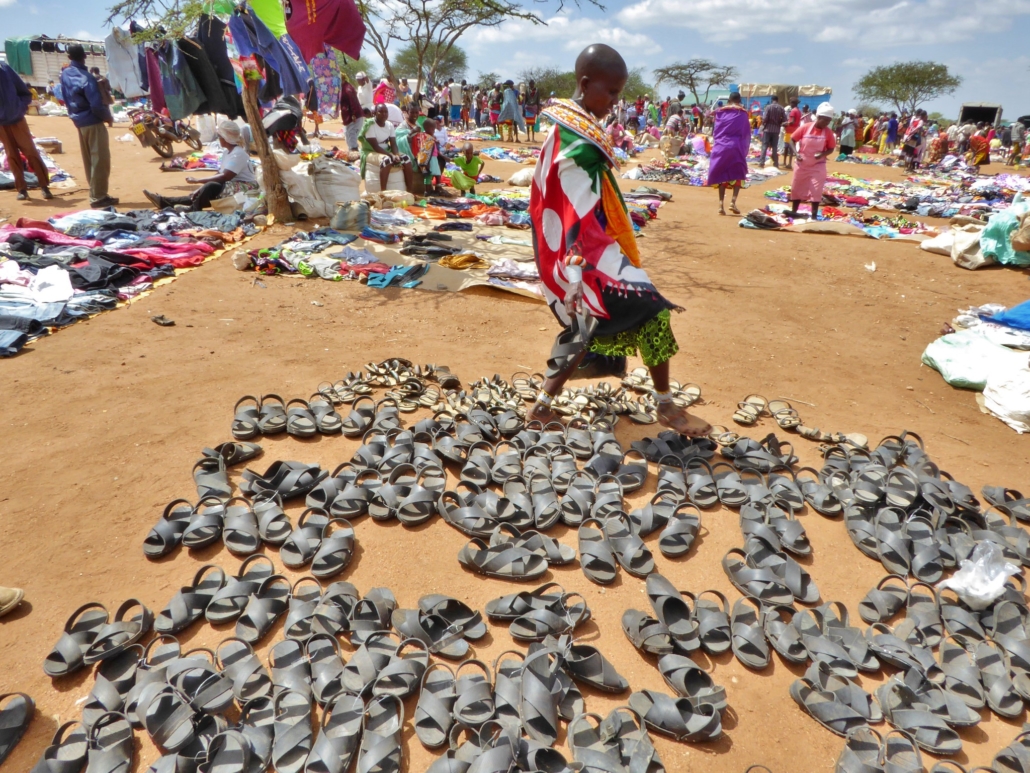 Wearing shoes protects feet from more than just scratches and heat. Shoes can eliminate preventable diseases, many parasitic infections, epidemics and dangerous bug bites. While adults can wear a pair for years, this is not the case with growing children. Because children have a much higher demand for shoes than adults, a few inspiring projects are providing impoverished children with shoes.
Soil-Transmitted Disease
Soil-transmitted diseases are most prevalent among those who cannot afford shoes. By giving shoes to those who are most in need, epidemics that can eventually lead to death can decrease entirely. Many diseases are due to contaminated soil and involve parasites that can cause slow development, organ damage, amputation and even death if left untreated. South America and Sub-Saharan Africa suffer the most from these diseases, and some communities in these areas can be difficult to reach. NGOs and charities similar to Samaritan's Feet have started to tackle these epidemics at their root. Shoes can eliminate preventable diseases by creating a barrier between contamination and bare feet. By preventing disease instead of medically treating it, the solution and work are cheaper, less invasive and eliminated entirely with enough effort.
Shoes = Opportunity
Infections and parasitic jigger fleas, which require painful treatments, are common in children who do not wear shoes in certain areas. Sometimes a lack of self-confidence or cleanliness can be an even more painful barrier. Shoes can eliminate preventable diseases, offer a safer ability to walk and give many the ability to take the first step in creating a better life. Buckner Shoes for Orphan Souls is a project within Buckner International that understands how being barefoot can prevent many children from attending school and can affect their self-worth.
By providing a pair of shoes for children, family workshops and job training programs for parents, many will eventually no longer rely on the donation program. In addition to the big picture, Buckner believes that a more hopeful future can arise through its program. Children can find a way out of poverty if they have good shoes and the opportunities that come with them.
Innovation and New Solutions
One pair of shoes provides a child with opportunities and foot protection for as long as the shoes fit. By finding a way to lessen the demand for new shoes every time a child grows, this large concern can shrink to one-fifth of its size. The Shoe That Grows™ is a type of shoe that can expand by five sizes so that children can have a single pair of shoes for a longer period of time than usual. The Because International website has stated that "Over 1.5 billion people suffer from soil-transmitted diseases worldwide," showing the necessity of having good-quality shoes.
Every time children outgrow shoes, the potential of disease exposure increases. However, The Shoe That Grows™ provides shoes that have a longer wear time than other shoes, subsequently taking away the burden of purchasing shoes once a year. The project distributed more shoes for Christmas 2021 than any other year and is looking to continue making the shoes more durable and create jobs with the company's manufacturers. The Shoe That Grows™ can save families and organizations time and money, providing a better chance of helping more children.
Looking Ahead
Shoes are an unexpected solution to a deadly problem that faces the poorest of the poor. With simple and innovative solutions to bring people the protection they need, this deadly issue has an end goal in sight. Children's continuous growth can cause difficulties, many organizations are effectively helping these children with a need that will bring physical protection and future opportunity.
– Karen Krosky
Photo: Flickr
https://borgenproject.org/wp-content/uploads/logo.jpg
0
0
Jennifer Philipp
https://borgenproject.org/wp-content/uploads/logo.jpg
Jennifer Philipp
2022-06-25 01:30:19
2022-06-25 10:49:46
How Shoes Can Eliminate Preventable Diseases