Safaricom's Job Expansion Is Critical for Combating Poverty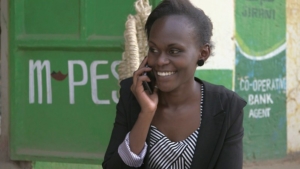 In a move to fight competition, Safaricom in Kenya expanded its technical staff by hiring 400 employees with one new deal. The deal, completed in July 2022, will not only create new jobs for Kenyans and open the door for future employment but also will improve Kenyans' access to technology. Nationwide access to the internet and reliable technology is critical to fighting poverty in Kenya.
Safaricom and its Role in Kenya
Safaricom is a mobile network and internet company based in Kenya. The company hires directly for countless fields, including tech, cybersecurity, commercial, corporate and more. Indirectly, the company is responsible for sustaining thousands of jobs, almost millions, of jobs. Indirect jobs, like contractors, have connections to the production or maintenance of a company's products. Indirect jobs are also ones where someone's business or employment is reliant on the services that the company produced. The jobs are indirect because they result from Safaricom's internet spread or use of Safaricom's technology and would not exist without Safaricom. Safaricom operates in at least 10 other countries, with recent expansions and more to come.
Allot, a secondary company that tracks cybersecurity and reliability, described Safaricom stating that "With 29 million connections, they are the largest telecommunications provider in Kenya and one of the most profitable companies in the East and Central African region." In the fiscal year 2020-2021, Safaricom contributed $4,642,499,981.43 in earnings to Kenya's gross domestic product (GDP). Safaricom's earnings amount to almost 5% of Kenya's entire GDP. The economic impact of Safaricom's work is indisputable, and Safaricom's job expansion exemplifies its effects on technology usage and poverty reduction in Kenya.
Technology in Kenya
Kenya has the "best e-infrastructure in Africa," making the country known for its technological development and innovation. Kenya's information, communications and technology sector (ICT) is at the core of Kenya's government's latest projects to strengthen the country's economy. The World Bank has reported that the ICT sector in Kenya still requires significant work to increase its impact on Kenya's economy and to completely help its poorer citizens.
In April 2022, Kenya's government created and began implementing the Digital Master Plan 2022-2032. Safaricom will be one of the companies tracking the Master Plan and its progress, specifically regarding data usage. The plan outlines goals, strategies and necessary steps to have Kenya align with global technological infrastructure advancements, and to strengthen and secure Kenya's "digital economy." A digital economy is the economic income and improvements from technology use, online activities and all the businesses that depend on the use of technology to strengthen their work and employee retainment. The Digital Masterplan, while not a direct plan to decrease poverty rates or unemployment rates, is meant to enhance the economy, which will result in reduced rates.
One of the key technological advancements in Kenya is the use of M-Pesa. M-Pesa stands for "mobile pesa" and allows users of M-Pesa to make secure transactions from their phones. Vodacom, a partner of Safaricom, and Safaricom itself produced M-Pesa first in 2007. M-Pesa has become a critical connector between rural and urban Kenya. It pre-dated apps such as Venmo and Paypal and has been a part of daily life with further expansions underway. M-Pesa is one of the primary technological tools in Kenya that have lifted thousands out of extreme poverty. Safaricom's job expansion will help even more escape poverty once the expansion is underway.
Poverty in Kenya
Extreme poverty is when a person lives on less than $1.90 daily. Kenya's extreme poverty rates were at their highest at 21% in 2016 but have since dropped to 17% as of 2022. Projections for Kenya's poverty rate show the percentage of Kenya's population in extreme poverty decreasing to 14% by 2025.
Poverty in Kenya has many causes including lack of education, poor health, and, as technology becomes a key source of income and infrastructure for Kenya, a digital divide. The World Bank noted that 44% of the urban population has access to the internet, compared to the rural population's meager 27%. Older Kenyans know there are not enough basic skills for technology usage, especially in rural areas. The lack of skills will result in their being economically disadvantaged as technology becomes Kenya's dominant source of income. Younger age groups are beginning to participate in courses in technology usage or computer science. However, not enough of the older Kenyan population, who struggle to escape poverty, are learning these skills. This is furthering the poverty rates and the technology divides.
Safaricom's Work In Kenya and Its Future Impact
Safaricom's job expansion continues the work of the company's efforts to fight poverty and reduce unemployment rates. Safaricom has created access to financial services for almost 80% of Kenyans. Before Safaricom began operations, the number of Kenyans with access to financial services was 20%. Safaricom has closed education gaps by providing updated technology to schools or has supported local communities or refugees as they find their footing. The technology demand is growing in Kenya, and Safaricom's job expansion of 400 new employees for the tech team will help meet these demands.
M-Pesa, a product of the tech team, has become one of Safaricom's most economically valuable ventures, connecting poor rural Kenyans with financial services and mobile usage. M-Pesa earned Safaricom $896,454,132.48 in 2020-2021.
Safaricom is hiring new employees to meet demand and further the company's reach with M-Pesa and projects like it. Safaricom's job expansion might seem small. Safaricom is hiring 400 new workers compared to the 6,230 the company already has working as full-time, part-time or contract workers. However, the new workers are invaluable to the company and its ability to serve those who have become reliant on the company and its technology. Safaricom's job expansion might not seem like a grand move, but there are now 400 tech developers who will benefit from a steady income. There will also be thousands more Kenyans lifted out of extreme poverty by Safaricom's projects and technology advancements that rely on these new 400 tech developers.
– Clara Mulvihill
Photo: Flickr
https://borgenproject.org/wp-content/uploads/logo.jpg
0
0
Jennifer Philipp
https://borgenproject.org/wp-content/uploads/logo.jpg
Jennifer Philipp
2022-10-04 01:30:19
2022-10-04 01:14:11
Safaricom's Job Expansion Is Critical for Combating Poverty