New Farming Technology Boosts Rice Production in Tanzania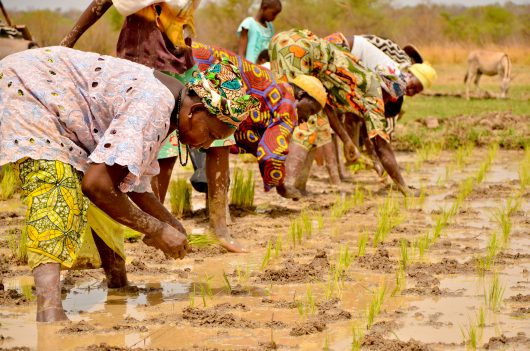 The use of an innovative technology to increase rice production in Tanzania has recently been approved. The new fertilizer method known as Urea Deep Placement, or UDP, boosts rice production by more than 20 percent per acre.
The cost of fertilizer is increasing, and nitrogen application lacks efficiency. UDP is a modern, crop-boosting fertilizer alternative that is better for the environment. Shortly after rice paddies are planted, farmers strategically bury urea supergranules close to their crops' root zones. The urea absorbs more effectively into plant roots, cutting fertilizer costs and increasing nitrogen efficiency.
Over 33 percent of Tanzania's rural population lives in poverty. Agriculture is the country's industry staple, especially in rural areas. Farming in Tanzania accounted for over 67 percent of employment in 2015, and agricultural production contributes to nearly 30 percent of the country's GDP.
Rice is Tanzania's seventh most important crop, and rice production has steadily increased over the past decade. In 2010, Tanzania became a net exporter of rice, producing over 2.6 million tons. Tanzania's rice production levels are the second highest in Africa, directly behind Madagascar.
UDP was first introduced to the African continent in 2009 after the world witnessed its results in Asian countries like Bangladesh, Vietnam and Cambodia, all of which are big rice producers.
Nitrogen is rice's most vital nutrient. Using UDP decreases nitrogen losses by up to 40 percent. By enhancing nitrogen efficiency, UDP benefits both global food security and farmer livelihoods while also diminishing widespread pollution. Nitrogen pollution can contribute to climate change and damage water quality, increasing the likelihood of attracting waterborne diseases.
Tanzania Fertilizer Regulatory Authority senior official Allan Mariki expressed the authority's support of UDP.
"We are encouraging farmers to venture into the system [of UDP utilization], which increases rice production per acreage," Mariki said.
Tanzania's newly unveiled five-year Expanding Rice Production Project focuses on improving irrigation and utilizing new agronomic practices such as UDP in order to double the country's rice production. The implementation of UDP is increasing yields, reducing nitrogen pollution and benefiting Tanzania's rice industry.
– Kristyn Rohrer
Photo: Flickr
https://borgenproject.org/wp-content/uploads/logo.jpg
0
0
Borgen Project
https://borgenproject.org/wp-content/uploads/logo.jpg
Borgen Project
2016-10-16 01:30:37
2019-10-24 06:48:14
New Farming Technology Boosts Rice Production in Tanzania