Quality of Life Uncertain for Refugees in Kenya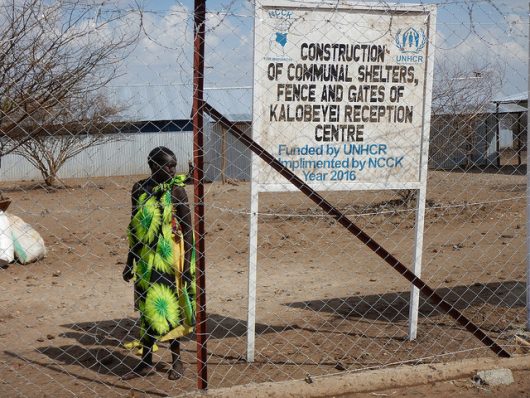 Kalobeyei is a town located in the northwestern part of Kenya that was built by the U.N. refugee agency (UNHCR) along with the local government of Turkana county. The town was designed as a location where refugees could become integrated with the local community and where this integration would benefit shared services and markets, thereby reducing the cost for Western aid donors. Unfortunately, this has not exactly worked out as planned for refugees in Kenya.
There have been quite a few issues that have risen since the town's creation. The most prominent of these issues is that Kalobeyei was established just as South Sudan's civil war greatly intensified, causing many refugees in Kenya to arrive with hardly anything more than the clothes on their backs, as well as without the proper resources that would help them make an attempt at a new life.
The World Food Programme provides $14 per month as a cash allowance to each refugee, which is supposed to cover up to 80 percent of an individual's needs in the town. This may not be enough to live off of due to the current conditions these refugees are left in after the civil war, especially since Kalobeyei is hosting nearly 40,000 refugees, including individuals from places such as South Sudan, Ethiopia, Uganda, the Democratic Republic of Congo and Burundi.
There have also been many complaints from the refugees in Kenya who are currently residing in Kalobeyei. Refugees say that little to nothing that they were promised has been offered in the town. They have found themselves in an isolated camp where both food and water are in short supply and that residents are at the mercy of thievery that goes on within Kalobeyei. One resident of the town—an Ethiopian refugee—said, "When they brought us here, we were told that the place would be like a community village with many development projects, a school, clinic, market and almost everything close by," but there is close to nothing within the settlement that is within walking distance.
When the UNHCR's office in Kenya heard of this story, communications director Yvonne Ndege had a drastically different description of what life was like residents of Kalobeyei saying that the town was in fact not built in a remote area and had markets, water tanks and primary schools on-site, as well as stating that "there is no heightened security situation or security threat at Kalobeyei or Kakuma." She went on to explain that refugees had the option to visit the camp before relocating and that perhaps they "may have had different expectations," despite having viewed Kalobeyei in advance.
Whatever the case may be, it is wise to be empathetic and understanding toward refugees in Kenya when it comes to these situations—having to relocate yourself and your family is never easy, and struggling in a new environment does not make anything less difficult. Hopefully, the UNHCR will empathize and refugees in Kenya will be able to resolve and overcome the issues with Kalobeyei, for the town is meant to only do good.
– Sara Venusti
Photo: Flickr
https://borgenproject.org/wp-content/uploads/logo.jpg
0
0
Kim Thelwell
https://borgenproject.org/wp-content/uploads/logo.jpg
Kim Thelwell
2017-10-04 07:30:21
2020-07-22 07:49:55
Quality of Life Uncertain for Refugees in Kenya