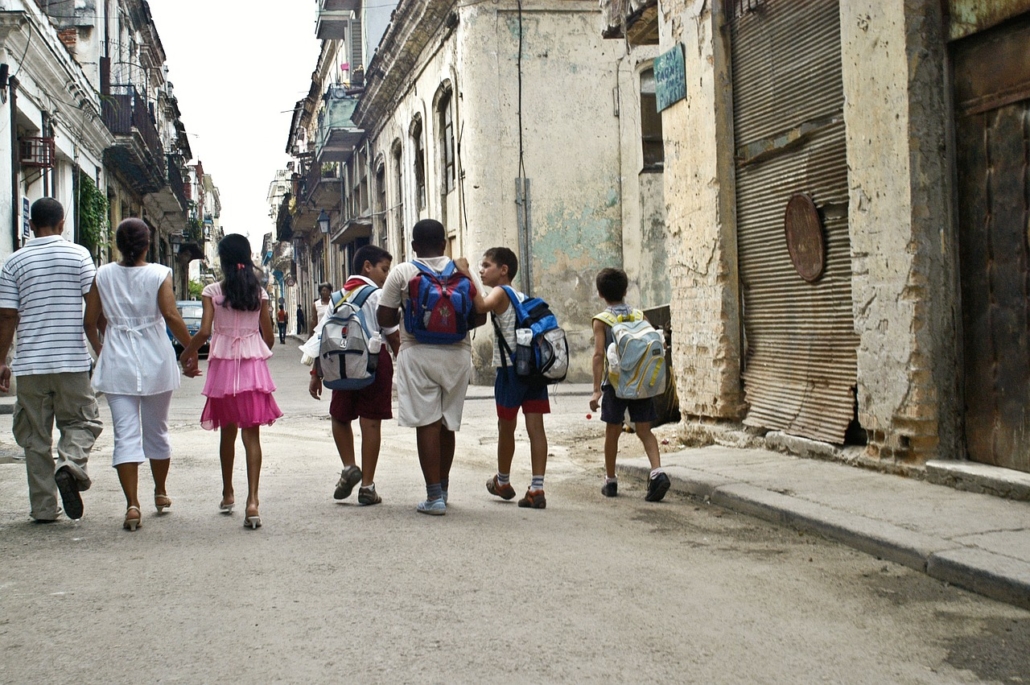 The largest island of the West Indies, Cuba, has often been scrutinized for its turbulent political history. A variety of factors have come into play to make the island nation one of the poorest countries in the world, with a significant portion of the population living in poverty. Such a statistic goes hand-in-hand with Cuba's unfortunate reputation of struggling to provide housing, healthcare and other necessities. Here are the top five facts about how many people are adapting to living in poverty in Cuba.
1. Agriculture and Climate: Much of Cuba's economy has heavily depended on the farming of specific crops such as sugarcane, one of the main export products used in trade. In addition, a significant portion of industrial work goes into processing much of these crops for commercial use, such as turning sugarcane into sugar crystals. In total, agriculture and industrial production of these goods make up nearly 30% of Cuba's GDP. Unfortunately, this dependence on agriculture imposes limitations on Cuba's ability to make great advances in infrastructure and maintain economic stability. The situation is only made worse due to the tropical climate and prevalence of hurricanes during the rainy season, which can cause widespread damage, suffering and loss of life. When Hurricane Irma struck in 2017, the cost of damages reached well over 13.6 billion pesos (more than $628 million). Over 7,400 acres of plantation farmland were destroyed, causing a brief food shortage and exacerbating poverty in Cuba.
2. The United States Embargo: After the rise of Fidel Castro in 1961, the United States placed an embargo that suddenly deprived Cuban exporters of a significant majority of their exports. Since that point, the embargo continues to restrict trade and access to American products. As a consequence, many people experience a lack of daily necessities from electronics to food. The embargo even includes sanctions against other nations trading with Cuba. The economic restrictions imposed by the embargo have disastrous consequences for those living in poverty in Cuba as they lack daily resources. As of now, there doesn't seem to be any immediate action towards removing the embargo, but an increase in tourism (especially from Americans) can provide the first step in easing relations between the two countries.
3. Jobs and Employment: Cuba has a very low unemployment rate compared to other nations of similar economic standing, resting at 1.7%. However, a significant portion of working families in Cuba are at risk of income poverty, with an individual having a 41.7% chance of having income problems. These people work in jobs for an average salary lower than that of the national average. Given that the typical family consists of about three people, this results in nearly four million individuals who live in households at risk of income poverty. Moreover, the workforce of Cuba is further destabilized due to the rampant rise of an aging population. Over 20% of the Cuban population is above the age of 60, which also means that fertility rates are low due to these demographic imbalances. So for the average family living in poverty in Cuba, finding work can be difficult. On the bright side, charities like the Caribbean Movement Trust can aid such families in becoming more self-sufficient and maintaining a steady income through education, training and healthcare projects.
4. Housing and Energy: The Cuban government closely oversees transactions and logistics involving real estate and homeownership. It is incredibly difficult to change one's place of residence as the government imposed a system of enforced home exchanges where homeownership is typically seen as collective ownership, which is controlled by the state. The situation is worse for those living in poverty in Cuba, as they cannot afford constant change and are often living without clean water, gas and electricity. However, international charities such as the Nextenergy Foundation are working toward providing renewable energy to contribute to poverty alleviation in many countries, including Cuba.
5. Healthcare and Education: Despite the many difficulties in their lives, Cubans are able to enjoy free health care and education at all levels. The government controls the distribution of goods such as foodstuffs and medications and has mandated that physical education and sports be integrated into Cuban education in order to promote healthy living. Even for those who live in poverty in Cuba, primary education for children between ages six and 11 is compulsory. As a result, a significant majority of the Cuban population is literate. In addition, women are guaranteed equal educational opportunities and account for more than half of all university graduates.
Cuba's environment, trade restrictions and general lack of everyday necessities place many of its citizens in poverty. Thankfully, many organizations are working to spread awareness and to donate money and resources to those living in Cuba. Over time and through the efforts of many people, it is possible to speed up the process of development to help this country in need of aid.
– Aditya Daita
Photo: Pixabay
https://borgenproject.org/wp-content/uploads/logo.jpg
0
0
Borgen Project
https://borgenproject.org/wp-content/uploads/logo.jpg
Borgen Project
2014-10-02 04:25:32
2020-09-04 11:36:14
Poverty in Cuba