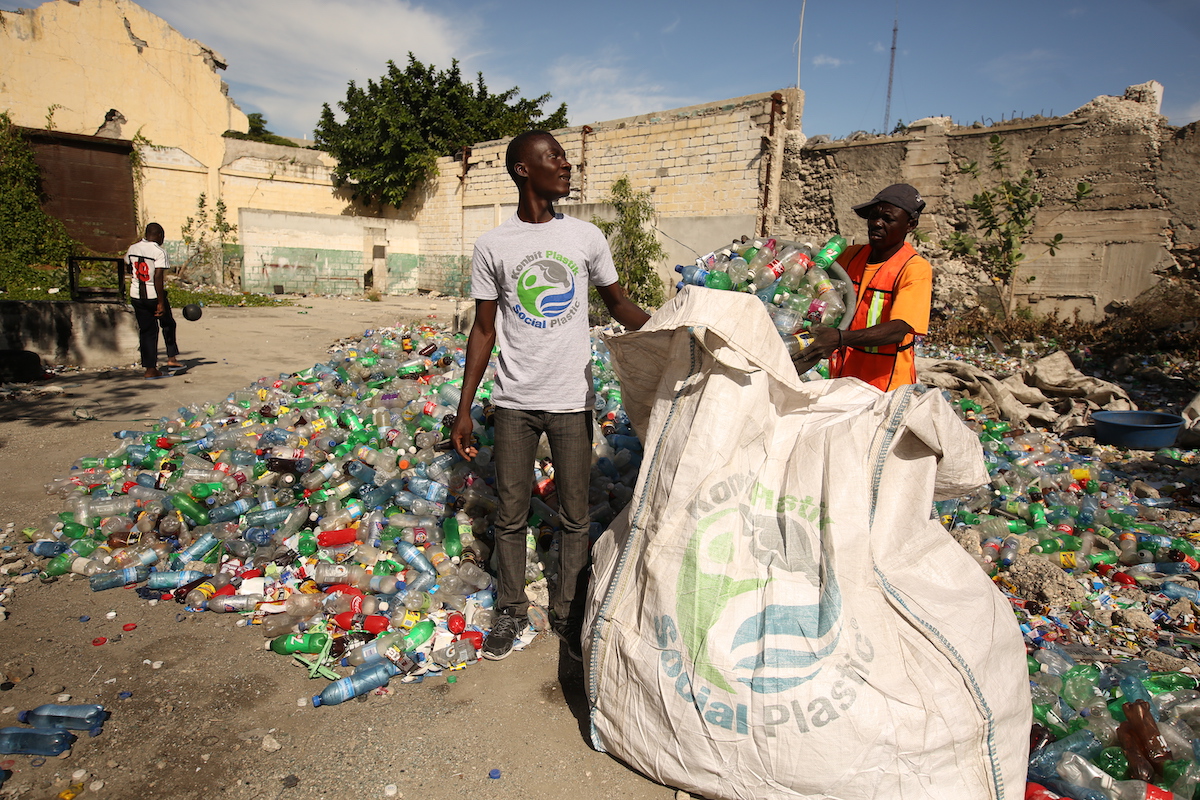 There are more microplastics in the ocean than there are stars in the Milky Way galaxy and the majority of this plastic waste comes from areas of extreme poverty, where recycling is simply not an option. Because a garbage truck's worth of plastic is dumped into the ocean every minute, David Katz and Shaun Frankson were compelled to create the organization known as Plastic Bank. During a TED talk, Katz explains that the solution to this problem is to "turn off the tap," since ridding the oceans of plastic waste may be futile. Thus, the organization was launched with two goals in mind: stopping the flow of plastic waste into the ocean, while simultaneously alleviating global poverty.
What is the Plastic Bank?
The Vancouver-based Plastic Bank, launched in 2013, is predicated around the idea of turning plastic waste into digital currency in impoverished communities. This gives plastic too much value to be simply dumped into the ocean. The organization touts the mantra, "Plastic is a resource — not waste."
At numerous locally-run Plastic Bank locations, individuals turn in plastic they have collected from within their communities. In Haiti, more than 40 recycling centers have been established and plastic collectors earn as high as $5 per day in a country where the average citizen lives on $2 a day, according to the World Bank. Since 2015, the first Plastic Bank center opened in Haiti has collected an amount of plastic equivalent to more than 100 million plastic bottles.
The plastic is weighed and assigned a value, which is then deposited into an online account that can be accessed via a smartphone application. According to Frankson, 50 percent of people in Haiti have a smartphone that can run the app and those who do not can use plastic to buy a phone. The app uses blockchain technology on IBM's LinuxONE servers, meaning that all transactions are tracked and free of any danger involved in a cash-based system, such as robbery or forgery. At Plastic Bank stores, individuals can use their credits to buy necessities such as water, food, sustainable cooking fuel, high-efficiency stoves and even medical insurance, school tuition, solar-powered smartphone charging and Wi-Fi access.
Another innovation is the app's banking features. Utilizing the same blockchain technology to create a secure "hyper ledger," users can build credit over time and eventually earn low-interest loans. Before this feature, this was a very uncommon opportunity in countries like Haiti since many citizens do not qualify for bank accounts.
The Advent of Social Plastic
Once the plastic is collected at recycling centers, it is cleaned, crushed into pellets and sold as what the organization calls Social Plastic, or a form of plastic that is more socially responsible. Social Plastic is purchased by companies and multinational corporations such as German Henkel, Shell, IBM and Marks & Spencer and is used directly in the manufacturing of their goods. According to Katz, Social Plastic is a "globally recognized currency" that "alleviates poverty and cleans the environment at the same time."
The Future of Plastic Bank
Currently, Plastic Bank is expanding operations to over two dozen countries and developing the app further, including IBM visual recognition technology to help users identify the value of certain plastics, like a barcode scanner in a store. Plastic Bank expects to entice major corporations such as Coca-Cola, PepsiCo and Colgate-Palmolive to join the initiative. Plastic Bank currently operates in the Philippines, Haiti and Indonesia and is projected to have 530 locations by the end of 2019.
– Adam Bentz
Photo: Flickr
https://borgenproject.org/wp-content/uploads/The_Borgen_Project_Logo_small.jpg
0
0
Jennifer Philipp
https://borgenproject.org/wp-content/uploads/The_Borgen_Project_Logo_small.jpg
Jennifer Philipp
2019-10-01 01:30:56
2019-10-10 10:13:42
How Plastic Bank is Tackling Global Poverty