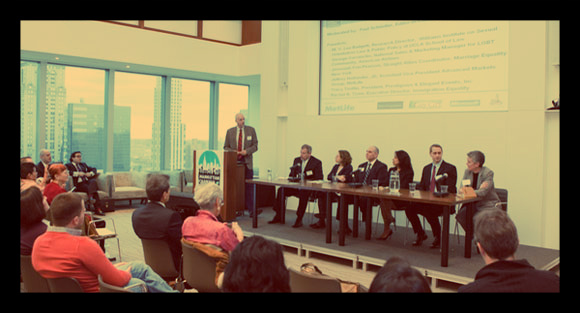 We see great things happen when our team is active in their communities and meeting new people. Forums for networking events vary by locality, but some common ones are meetings held at Town Halls, Chambers of Commerce, local community centers, or even university job fairs.
Like politics, all networking is local. If you live in an agricultural-dependent region, agri-group meetings will often be high impact networking forums since local representatives and community leaders will likely be present to attend to this important constituency. Likewise, in tech-heavy Seattle, Washington Technology Industry Association meetings would be a productive networking setting for the same reason.
For examples of how these networking events can be so pivotal to the cause, see how one Regional Director's attendance of a local chamber of commerce meeting landed him in his Congressman's office for a face-to-face meeting with his representative, or how one of our newer Regional Directors, Ryan Eldridges, leveraged his networking with students at local area schools into an effective "swarm" of a key senator that brought the importance of global poverty to his constituency to this senator's doorstep.
Objective of attending events:
Raise awareness of the cause and The Borgen Project.
Connect with people who might be potential allies.
Educate yourself about specific issues (i.e. hearing a speaker discuss global health).
Help you develop a skill that will profoundly improve your life… talking to strangers.
What to do?
Attend virtual events. We want everyone safe and healthy during this time and, therefore, we ask that you focus on attending only virtual events. Many groups are already hosting virtual events but you can also use meetup.com to find related events to attend as well.
Arrive early. Especially at in-person events with speakers, all networking occurs before and after the event.
Talk to strangers. Don't be shy; these people are socially starving and dying to meet new people… That's probably why they're at the event to begin with! Introduce yourself. Be friendly. Listen. And that's all there is to it.
Easy Icebreakers:
"Hi I'm…(enter your name, a smile and a handshake here)." With that 3-word opener conversations usually pop out of thin air.

"Are you from XXX?" is always a safe next question to open up a bigger conversation.

"Have you been to XXX (name of group hosting the event) events before?"

When in doubt talk about the weather: "Looks like the rain is back." "It's good to see the sun is out." "I was sure feeling that wind on the way over here."
The Question: Be Borgen Project ready for that infamous and uniquely American question…
Q: "What do you do?"
A: "I work for The Borgen Project; it's a national campaign that addresses global poverty."
When attending political events, don't forget to Bird-Dog!