New Volunteer Quickly Becomes Lobbyist for the World's Poor
NEW YORK – Regional Director Anthony Swingruber demonstrated how determination can seat one in their Congressman's office. It all started a couple weeks ago, when Swingruber attended a Chamber of Commerce event in Saratoga County, New York.
"I spoke with the President of the Chamber of Commerce, asking if he knew of any events where [Congressman Paul Tonko] would be speaking," Swingruber said. "I found a 'Meet the Candidates' event at the Town Hall."
Swingruber followed up, attending the event.
"I was excited to have the opportunity to meet someone within the campaign," Swingruber said. "I didn't know what to expect."
At the event, Swingruber asked the candidates questions pertaining to foreign policy. He followed up at the end, introducing himself to incumbent Congressman Paul Tonko.
"I worked through the crowd of people to shake his hand, and the President of the Chamber of Commerce introduced me," Swingruber said. "Asking the question made me more than just a face in the crowd; I was the man who asked the foreign policy question."
Swingruber reached out, asking to set up a meeting with Congressman Tonko. Three days later, Congressman Tonko's office secured a meeting between the two. Swingruber was surprised that he was easily able to meet with a politician who had such a hectic agenda.
"I didn't think the Congressman would have the time to sit down with me," Swingruber said.
With questions and information about The Borgen Project prepared, a slightly nervous Swingruber sat down with Congressman Tonko and discussed global poverty and his stance on foreign aid legislation. Talking with his Congressman in person proved to be impactful.
"I really am impressed that you are professing such a concern," Congressman Paul Tonko said in his meeting with Swingruber.
Swingruber was pleasantly surprised with his entire experience, as well.
"When I first got started, it seemed like a 'pie in the sky' sort of opportunity," Swingruber said. "Not because I wasn't capable, but because there are so many people contacting Congress on a daily basis. It took a bit of good luck, but it turned out to be a neat experience for me."
Swingruber sees his success as a result of his personal determination and attendance of the Chamber of Commerce meeting.
"Had I not gone to the event, it wouldn't have happened," Swingruber said. "It shows how important it is to follow up."
With this experience under his belt, Swingruber provides a couple tips for Regional Directors and other motivated citizens looking to meet with their political leaders.
"Go out and talk to as many people as possible," Swingruber said. "The more you talk, the more confident you get, and the more of an authority you feel on the subject. Plus, talking points become more fluid."
From the campaigning event to the meeting with Congressman Tonko, Swingruber realized how contacting and influencing Congress is feasible and impactful.
"The number one thing I took away from this experience is that the objectives that seem unattainable are achievable with hard work," Swingruber said. "I thought, 'no way could I meet with a Congressman!' But I met with a Congressman. Looking back, it wasn't that crazy of a goal to achieve."
Anthony Swingruber joined The Borgen Project in August after witnessing the impact of extreme poverty while living in Ecuador. Within two months of joining the cause, Anthony had secured his first Congressional meeting.
– By Rose Hoonan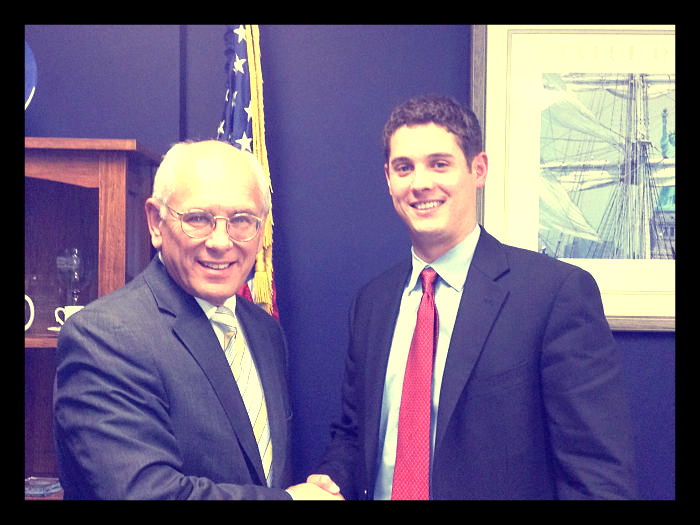 Anthony Swingruber
Role: Regional Director
Location: Malta, NY
College: BA in Journalism, Georgia State University (2006)
Background: Currently works in Real Estate. Background in sports radio, both as an Account Executive and as an on-air DJ. In 2011, taught English in Guayaquil, Ecuador.
Behind Closed Doors of a Congressional Meeting.

In a rare opportunity to hear what goes on inside a Congressional meeting, listen to the full audio recording. Amazingly, this was Anthony's first time lobbying for the world's poor.
New York's 20th Congressional District