Nelson Mandela's Early Life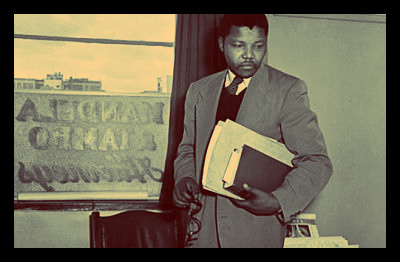 Rolihlahla  Nelson Mandela was born in Qunu, South Africa on July 18, 1918. He was the youngest son of Nonqaphi Nosekeni and Nkosi Mphakanyiswa Gadla Mandela. His father was the principle advisor to the Acting King of Thembu, Jongintaba Dalindyebo. When Mandela was a child, his father died and he became a ward of Jongintaba Dalindyebo and lived in the Great Palace in Mqhekezweni. He attended primary school in Qunu and his teacher, Miss Mdingane, gave him the Christian name Nelson.
During Nelson Mandela's early life, he was raised hearing stories of war and oppression from his elders and knew from a young age that he wanted to make a contribution to freeing his people. He attended Clarkebury Boarding Institute and then went to Healdtown for secondary school. Nelson Mandela first attended the University College of Fort Hare but was expelled for participating in a student protest. He completed his Bachelor of Arts degree at the University of South Africa.
The King had arranged a wife for him when he graduated but idea of arranged marriage made Mandela flee Qunu and head to Johannesburg.  He worked as a mine security officer and then law at the University of the Witwatersrand and later at The University of London. He was a poor student though and never finished his law degree.
His political life started in 1942 when he joined the African National Conference, (ANC) an organization that lobbied to the South African government for African rights and political change. Mandela was an influential member of ANC and he helped form the ANC Youth League.  In 1948, the South African government instituted apartheid, apartheid was a government-instituted segregation of people based on their race that oppressed non-whites.  ANC and Mandela instituted passive resistance including non-violent protests, boycotts, and non-confirmation to apartheid polices and rules.
In 1944 Mandela married a nurse, Evelyn Mase. They had two sons Madiba Thembekile 'Thembi' and Makgatho and daughter named Makaziwe who died at at young age. They later had another daughter who they also named Makaziwe. The couple separated in 1955 and later divorced.
In 1952, Mandela became one of the ANC's deputy presidents. The ANC Youth League with Mandela's help implemented The Programme of Action, a racial mass-based policy.  In 1956 Mandela went on trial for treason and five years later was acquitted.  The government began to shut down all anti-apartheid groups and ANC was declared an illegal organization and shut down in 1960.
– Lisa Toole 
Sources: Nelson Mandela's Children's Fund, Nelson Mandela Foundation, BBC
Photo: This Bug Life
https://borgenproject.org/wp-content/uploads/logo.jpg
0
0
Borgen Project
https://borgenproject.org/wp-content/uploads/logo.jpg
Borgen Project
2013-12-13 15:48:17
2018-03-07 13:33:19
Nelson Mandela's Early Life