Mind Over (or at Least on Par with) Matter for HIV Patients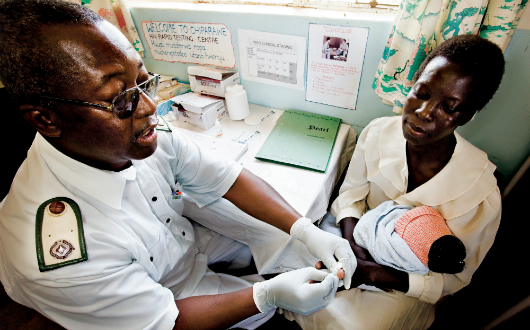 HIV-positive individuals face enormous challenges, in terms of both size and quantity, and the psychosocial aspect of their plight is often underestimated.
Living with the stigma of being someone who is "infected" can interfere with opportunities, relationships and one's overall position in society. Many individuals living with the diagnosis face issues ranging from anxiety to suicidal thoughts, from personality disorders to substance abuse.
Feeling the reality of mortality, along with the sudden ostracism from the community that a person once belonged to due to the stigmatized nature of HIV, is enough to bring up these issues for anyone.
While the war against the physical symptoms and spread of the diseases is in full force, the psychological issues faced by sufferers are just as important to address.
While these "side effects" are not always taken into consideration as a priority, the World Health Organization itself "recommends that attention to the psychosocial needs of people with AIDS should be an integral part of HIV care," according to a National Institutes of Health (NIH) study. Globally, there are many cases where it is being done with great effectiveness.
Microcredit programs provide small loans to people who, due to their life-threatening diseases and discrimination (despite legislation seeking to prevent it), are hard-pressed to receive them from other places. In the case of the Positive Partnership Program in Thailand, loans are provided for partnerships between one HIV-positive and one HIV-negative person.
Infected individuals who received loans through this program reported feeling a greater sense of self-efficacy, increased acceptance in the community and an overall improved outlook on life. HIV-negative individuals who participated in the program reported an increased understanding of HIV and decreased levels of anxiety, fear and discomfort toward HIV-positive individuals.
Programs like this one are exemplary in the move toward integrating HIV-positive individuals into the rest of society. This is on top of the opportunity they offer them to reach and prove their full mental and economic potential, as, in the study's period of 2004-2006, 91% of the loans given were repaid on time.
Projects similar to this one include a study of a cognitive-behavioral-group program for HIV-positive men in Hong Kong, and another done in rural Uganda using interpersonal psychotherapy. Both of these studies showed that psychosocially-based programs were effective in reducing symptoms of depression and increasing overall mental health.
In truth, the efforts of groups that work to reduce stigma and increase quality of life are incalculably important. As lecturer in ethics and HIV prevention Bridget Haire says, "showing the nation how people living with HIV are a vibrant, vital and productive part of our community cannot be overestimated."
Perhaps even more poignant are the words spoken by one of the participants in the Thai Positive Partnership Program: "Life is much improved. My social life is back. I may have HIV, but I am still a human being. I have my self-esteem, and my honor."
– Em Dieckman
Sources: UNAIDS, NCBI, The Conversation
Photo: Flickr
https://borgenproject.org/wp-content/uploads/logo.jpg
0
0
Borgen Project
https://borgenproject.org/wp-content/uploads/logo.jpg
Borgen Project
2015-07-28 10:05:30
2020-07-10 14:53:29
Mind Over (or at Least on Par with) Matter for HIV Patients