WaterAid Focusing on the Link Between Sanitation and Malnutrition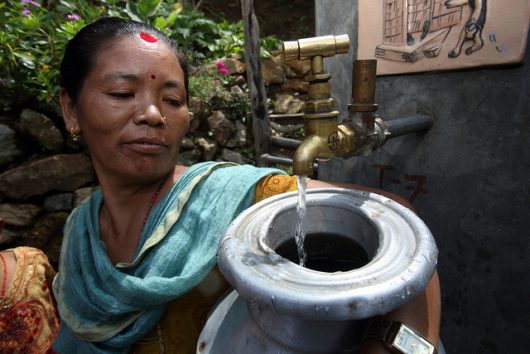 Worldwide, about 844 million people live without access to clean water and about 2.3 billion people lack adequate sanitation, according to WaterAid. Along with the lack of clean water access, about 155 million people worldwide experience stunting caused by acute malnutrition.
WaterAid has recognized the importance of tackling water, sanitation and health (WASH) deprivation as a tool to end chronic malnutrition. It believes that by addressing the link between sanitation and malnutrition, malnutrition will decrease in proactive countries. According to WaterAid, nearly half of all malnutrition cases are caused by WASH conflicts.
WaterAid argues that an array of diseases contribute to malnutrition, all of which are associated with a lack of clean water, sanitation and hygiene. According to the World Health Organization (WHO), those diseases include diarrhea, intestinal nematodes, trachoma, schistosomiasis and others, all of which are preventable.
According to the WHO's report, about 50 percent of all childhood malnutrition is caused by chronic diarrhea and infectious intestinal nematodes. This results in about 860,000 children under the age of five dying each year from malnutrition directly caused by clean water, sanitation and hygiene conflicts.
"The truth is that food alone will never be enough to tackle the problem, we have to target its underlying causes too," said Megan Wilson-Jones, WaterAid's policy analyst on health and hygiene. "Clean water, adequate sanitation and good hygiene are also vital ingredients for good health."
WaterAid released a "Recipe for Success" that urges governments and organizations to:
Implement WASH and nutrition plans in local governments
Increase the amount of government funding for WASH-oriented programs
Focus first on mothers and babies, who are most affected by sanitation and malnutrition
Target areas within countries (such as rural areas) that show high numbers of malnutrition
Promote nutritious foods and daily hand hygiene
Create sustainable WASH programs by educating health workers, teachers and parents on proper hygiene and nutrition
One country that illustrates the link between sanitation and malnutrition is Paraguay. According to WaterAid, access to clean water in Paraguay's rural areas increased by about 43 percent from 2000 to 2015, causing WaterAid to declare it the most improved country. According to The Guardian, the reason for Paraguay's success was because of the government's improved efficiency. The sanitation and water agency was placed within the department of health, making the issue a much higher priority. This, along with many more steps taken by the government toward becoming more sustainable and efficient, is what helped Paraguay achieve success.
The results in Paraguay can be seen in the World Bank's DataBank statistics:
Percentage of population with access to sanitation
1990: 87 percent
2015: 96 percent
Percentage with access to clean water
1990: 93 percent
2015: 99 percent
Percentage affected by malnutrition
1990: 18 percent
2012: 11 percent
By looking at Paraguay's statistics, WaterAid's assertion of the link between sanitation and malnutrition can be confidently supported.
WaterAid continues to voice its concern for WASH to eliminate worldwide malnutrition, but success cannot be achieved without governments also recognizing the link between sanitation and malnutrition as well as providing efficient and sustainable programs.
– Austin Stoltzfus
Photo: Flickr
https://borgenproject.org/wp-content/uploads/logo.jpg
0
0
Borgen Project
https://borgenproject.org/wp-content/uploads/logo.jpg
Borgen Project
2018-02-28 07:30:16
2019-07-31 20:58:10
WaterAid Focusing on the Link Between Sanitation and Malnutrition