Investment Project to Benefit 350,000 in Rural Bolivia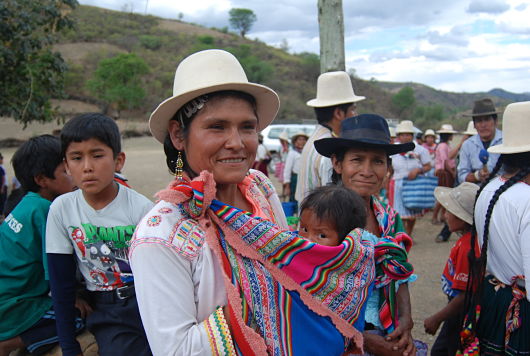 Six out of every 10 people in rural Bolivia live below the poverty line. In 2011, the World Bank Group launched its Community Investment in Rural Areas (PICAR) initiative in Bolivia, seeking to broaden impoverished rural access "to basic and productive infrastructure."
Thus far, the project has maintained an effective track record, financing 612 sub-projects as of April 2015, including water and sanitation, irrigation, infrastructure and livestock protection initiatives. These sub-projects have a 75 percent completion rate, impacting 132,219 rural Bolivian inhabitants. The World Bank estimates that the project will surpass all target numbers, impacting more than 35,000 rural households in the country's poorest communities.
After a successful start, the World Bank Group has extended an additional $60 million credit on top of the original $40 million loan for PICAR's implementation. The funding increase is anticipated to facilitate the implementation of poverty reduction and rural development initiatives in 750 new communities, also providing 120 communities with a second round of grants.
By increasing funding, the World Bank Group expects PICAR to positively impact an additional 200,000 rural, primarily indigenous Bolivians, bringing PICAR's number of beneficiaries to an estimated 350,000.
Along with indigenous groups, rural women are most strongly affected by poverty. Impoverished people face greater levels of food insecurity, limited access to basic services and depressed economic opportunities.
PICAR has been designed to take into account the importance of providing economic opportunities and necessary services to rural women, with 40 percent of sub-projects prioritized and implemented under female directive. The World Bank also reports that at the community level, PICAR has helped to develop 660 female leaders.
"We expect that at least 45 percent of PICAR beneficiaries will be women," World Bank Resident Representative in Bolivia Nicola Pontara said, "with at least 20 percent being female heads of household, the most vulnerable group among the poor."
Handing over the reins of agency to those most impacted by poverty is a common theme. PICAR functions by providing communities with financial resources to meet the issues the community members identify with solutions they define based on small projects, completed with local labor and materials.
Through direct transfers of resources to the communities in which the funds will be invested, PICAR seeks to give Bolivia's most impoverished regions the capital and support to not only participate in, but actually manage their own advancement.
Alberto Rodriguez, World Bank Country Director for Bolivia, Chile, Ecuador, Peru and Venezuela, spoke on this aspect of empowerment: "[Bolivia's most vulnerable communities] are able to search for collective solutions to their basic and productive needs, lead projects and manage their own resources, enabling them to control their own development."
Although Bolivia still faces significant challenges — 30 percent of the population lives in poverty — the country has taken strides toward economic growth. With assistance and initiatives like PICAR, substantial poverty reduction promises to continue.
– Emma-Claire LaSaine
Sources: World Bank, UNICEF
Photo: World Bank
https://borgenproject.org/wp-content/uploads/logo.jpg
0
0
Borgen Project
https://borgenproject.org/wp-content/uploads/logo.jpg
Borgen Project
2015-08-09 01:30:43
2020-03-20 19:40:51
Investment Project to Benefit 350,000 in Rural Bolivia