A Roof, A Skill, A Market: Transforming Infrastructure in Burkina Faso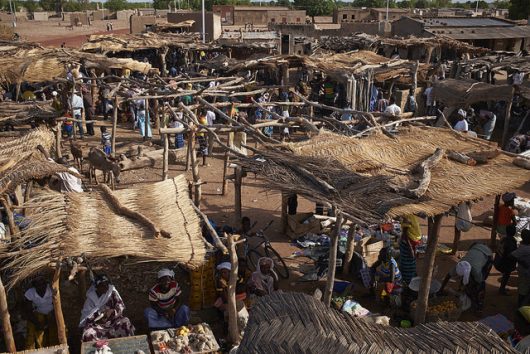 More than 50 percent of the 100 million people living in the Sahel region of Africa, which includes Burkina Faso, lack access to adequate housing. This is partly caused by deforestation and the spread of arid landscapes, leading to a scarcity of timber used for traditional housing construction that has dramatically impacted infrastructure in Burkina Faso.
The modern materials used in its place, such as imported wood and corrugated iron, are unhealthy to live in, poorly insulated and unaffordable in a country where 44 percent of people live on less than $1.90 a day and the majority are subsistence farmers.
Ancient Architecture Updated to Create Affordable Homes
But strides have been made in tackling this crisis by the multi-award winning Nubian Vault Association (AVN) under its multifaceted A Roof, A Skill, A Market program. AVN was founded in 2000 by Seri Youlou, a farmer and native of Sahel, and French mason Thomas Grainer.
The first part of the program refers to the building of nubian vaults, an architectural style developed 3,500 years ago in Egypt, that utilize locally produced adobe bricks and are much more affordable, ecological and durable. Not only are they are 50-60 percent cheaper than comparable concrete structures, but nubian vaults are expected to last 50 years or longer as opposed to the seven to 10-year lifespan of houses built out of concrete and corrugated iron roofing.
The influx of this new infrastructure in Burkina Faso is especially beneficial because it continually generates a multitude of new jobs. Cohorts of locals gain new skills as they are trained as masons to build these homes. As the majority of these builders in Sahel are otherwise seasonal farmers with little income security, this opportunity is crucial in providing additional revenue.
Mason Training Diversifies Economic Opportunities for Farmers
The benefits received are not solely monetary. Two to three-day conferences are held at the start and end of each construction season that all AVN masons are welcome to attend. They function as networking events where masons can make contacts and share experiences as well as extended educational spaces with workshops on how to run a small business and be a successful entrepreneur.
This additional training is especially important because of AVN's ultimate goal of creating autonomous local markets that are not dependent on external cash flow in order to perpetuate this model's long-term sustainability. After picking a project site, AVN recruits an individual as an ambassador to find new customers within a 100km radius of the project. New customers are then connected with masons who are paid directly by the client.
The builders themselves can also find new patrons, which as of 2013 made up 35 percent of the new client base. This indirect facilitation role fostered by AVN is both important in creating community empowerment and independence. Grainer commented: "Our work expands on the famous saying: we teach a man to fish; we teach him how to mend the nets; we teach him how to sell the fish."
The Growth of Infrastructure in Burkina Faso and the Sahel
This success is not just limited to the market and infrastructure in Burkina Faso, but has expanded to other African communities as well. More than 2,000 homes and commercial/community buildings have been built as part of the program, which have benefited roughly 25,000 people and reduced 65,000 tons of carbon dioxide emissions across Burkina Faso, Mali, Benin, Senegal and Ghana.
When projects expand into new territories, established masons from one country sometimes travel to another to train new apprentices. This strengthens ties across communities and has created a pan-African community of roughly 732 masons to date that has generated a total of $2.6 million for local economies.
The tremendous and multifaceted global impact that AVN has had through A Roof, A Skill, A Market program would not have occurred without the original collaboration between Youlou and Grainer. Together, they forged a creative solution that provides affordable and sustainable housing, increased income stability and economic development across entire communities. Their partnership demonstrates the importance of collaborative global development in creating new ways of living together that build a better future for everyone.
– Emily Bender
Photo: Flickr
https://borgenproject.org/wp-content/uploads/logo.jpg
0
0
Borgen Project
https://borgenproject.org/wp-content/uploads/logo.jpg
Borgen Project
2018-05-18 07:30:58
2019-08-01 09:46:33
A Roof, A Skill, A Market: Transforming Infrastructure in Burkina Faso