Indonesian Education System for Disabled Needs Improvement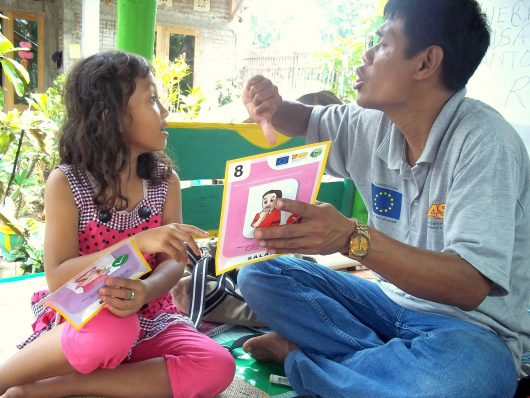 In Indonesia, education is a privilege to which not all children have access. Based on a have-and-have-not system, the Indonesian education system is severely underfunded for those without financial security.
Children from financially stable families have a variety of schools to choose from, including both public and private. However, children from poorer families have few to no affordable options for education. Their available options only include public primary schools.
Because quality education is offered to such a small sector of the population, the knowledge gap is widening between the wealthy and the poor. Unfortunately, a large number of these uneducated Indonesians are students with disabilities.
Disabled students have an especially difficult time accessing education because the Indonesian government provides them two options for education: enrollment at special-needs schools, or schools with inclusive programs that are willing to accept students with disabilities. Both of these options are unlikely to provide a quality education to disabled students.
Special-needs schools do not teach curriculums that cater to students with various disabilities, so students with physical disabilities are taught the same curriculum as students with learning disabilities, even though they are capable of learning at the same pace as their able-bodied peers.
Similarly, not all schools are accepting of students with disabilities. Most of them lack the physical facilities necessary for these students, and many teachers have little to no experience working with disabled children.
Thus, it is important that decision-makers within the education system increase awareness in order to accept students with disabilities currently being denied an education by the majority of institutions throughout Indonesia.
Indonesians with disabilities who do not receive proper education experience unique problems throughout the entirety of their lives. According to a recent study at the University of Indonesia, nearly 70% of disabled children do not receive an education and the ones who do only have a 66.8% chance of finishing primary school.
This is reflected later in life as only 64.9% of people with disabilities have a chance of getting a job. The gap between people who can afford to receive a quality education and people with disabilities continues throughout these people's lives as the educated obtain successful, well-paying jobs and people with disabilities do not.
Help for these people begins with raising awareness and normalizing students with disabilities in a typical Indonesian classroom setting. Inclusive education is making its way through the Indonesian education system as more and more schools are accepting and tolerant of these students.
By improving the availability of education to students, it becomes possible to obtain jobs later in life, regardless of disability status.
However, inclusive education is accessible to only a small portion of the disabled community, so it is important that lawmakers and teachers alike learn about various disabilities and provide effective education for each individual.
Because disabled students rarely interact with peers without disabilities in the classroom, the two groups become separated and remain so throughout their lives, including in the workplace. Many jobs are unavailable to people with disabilities because employers lack knowledge of disabilities and are unwilling to hire disabled individuals.
By allowing students with and without disabilities equal opportunities in the Indonesian education system, the workplace becomes much more abundant in job opportunities for Indonesians with disabilities. This is because people become more aware of disabilities and more accepting of them in the workforce.
Education conditions for Indonesians with disabilities continue to improve, but the opportunities remain slim. With significant effort, it is likely that disabled individuals will one day have access to the Indonesian education system leading to greater opportunities in the workplace.
– Kassidy Tarala
Photo: Flickr
https://borgenproject.org/wp-content/uploads/logo.jpg
0
0
Borgen Project
https://borgenproject.org/wp-content/uploads/logo.jpg
Borgen Project
2017-07-30 01:30:43
2020-07-02 09:00:15
Indonesian Education System for Disabled Needs Improvement