Increasing Access to Education in Chad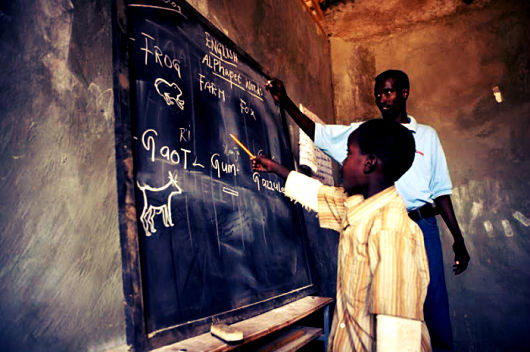 Located in Central Africa, Chad is ranked near the bottom of the United Nations Development Programme's (UNDP) Human Development Index, 184th out of the 187 countries studied. Heavily affected by internal conflict and economic strife, Chad's fragile government has experienced incredible difficulty in increasing access to primary education.
Due to severe economic disparities, there are a number of problems in Chad's education sector, particularly in a lack of adequate supplies and tools necessary to create a functioning school environment. Many of the existing schools are simply structured, overcrowded with students, and understaffed, also lacking desks, chairs, or textbooks.
In 2012, the United Nation's Human Development Reports revealed that only 62 percent of primary school educators in Chad were even qualified to teach. Additionally, the youth literacy rate for boys, ages 15-24, was 53.6 percent in 2012, while girls lagged behind with a literacy rate of only 42.2 percent. However, these numbers are an improvement from the past decade.
Chad's government recently teamed up with an existing triple partnership between the United Nations International Children's Emergency Fund (UNICEF), the Global Partnership for Education (GPE), and Educate a Child (EAC), with the intention of ameliorating its education problem.
The plan for development involves two main components: restoring and improving the physical learning environment, and increasing the quality of instruction through providing necessary materials (textbooks, blackboards, desks, etc.).
EAC's website states, "The Revitalizing Basic Education in Chad project works in targeted primary schools in the regions of Guéra, Ouadai, Sila and Logone Occidental, to supports the Government of Chad's efforts to increase primary school completion rates from 37 percent in 2011 to 80 percent in 2020."
GPE alone has donated $47.2 million to aid the project, providing ample funds to revamp schools across the country.
With the combined effort of these three organizations, 246,500 children will be able to enroll in and complete a quality primary education.
According to GPE, "Chad's education sector has progressed slightly in recent years. The percentage of out-of-school children decreased from 43 percent in 2002 to 36 percent in 2011. The primary completion rate increased from 30 percent in 2006 to 35% in 2012. In terms of gender parity, 62 girls finished primary school for every 100 boys in 2012, improving slightly from 53 girls for every 100 boys in 2006."
Not only is this partnership working in Chad, but also Comoros, Democratic Republic of Congo, Somalia, South Sudan, Sudan, and Yemen, where it is getting 2.5 million children a quality education. If Chad's current success is magnified, the lives of hundreds of thousands of children will be changed for the better.
– Hanna Darroll
Sources: UNICEF 1, UNICEF 2, Global Partnership for Education, Educate a Child
Photo: Relief Web
https://borgenproject.org/wp-content/uploads/logo.jpg
0
0
Borgen Project
https://borgenproject.org/wp-content/uploads/logo.jpg
Borgen Project
2015-06-15 10:07:32
2020-07-15 23:36:18
Increasing Access to Education in Chad