World Hunger Down, but Problems Persist in India and Africa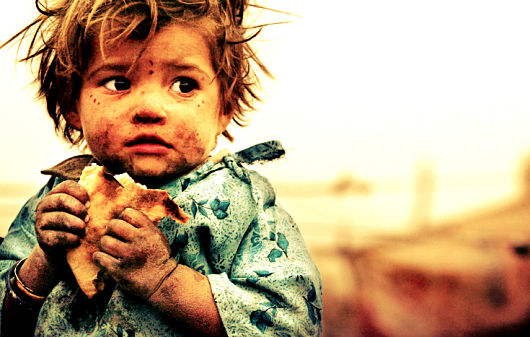 The U.N. released its latest annual report on world hunger this week with some encouraging results: the number of chronically hungry people in the world has been reduced by 216 million since 1990.
That still leaves 795 million hungry today. However, considering the world's rapidly growing population, a decrease in hundreds of millions of hungry people is a testament to the continued success of anti-hunger measures worldwide.
These measures are included as part of the U.N.'s eight Millennium Development Goals. The first goal seeks to "halve, between 1990 and 2015, the proportion of people who suffer from hunger."
According to the report, 72 of 129 nations monitored by the U.N. have met this goal. Progress was greatest in Latin America and parts of Asia.
Success in hunger reduction has been attributed to three important developments, the report states. They include: improved agricultural productivity, economic growth and the expansion of social protection.
Agricultural productivity and economic growth are both driven by investments in education and technology. In China, rapid economic growth was responsible for decreasing an enormous number of hungry people.
However, the report found inequality to be partly responsible for global hunger, which is why economic growth must be inclusive. Growth must also be harnessed into social protection programs, which have kept 150 million people from extreme poverty, according to the report.
In a press release, Executive Director of the World Food Programme Erthain Cousin stated, "healthy bodies and minds are fundamental to both individual and economic growth, and that growth must be inclusive for us to make hunger history."
While these gains are noteworthy, problems still continue in sub-Saharan Africa and India.The report says almost one in four people go hungry in Sub-Saharan Africa each year. India, meanwhile, has the most hungry people in total. An estimated 194.6 million Indians suffer from undernourishment.
This leaves more work to be done.
In a press release, José Graziano da Silva, Director General of the Food and Agriculture Organization, urged the world to continue its progress. "We must be the Zero Hunger generation," the director said. "That goal should be mainstreamed into all policy interventions and at the heart of the new sustainable development agenda to be established this year."
The report, titled "The State of Food Insecurity in the World 2015," was produced by three related U.N. agencies: the Food and Agriculture Organization, the International Fund for Agricultural Development and the World Food Programme.
– Kevin McLaughlin
Sources: International Business Times, FAO 1, FAO 2, U.N.
Photo: Applied Unificationism
https://borgenproject.org/wp-content/uploads/logo.jpg
0
0
Borgen Project
https://borgenproject.org/wp-content/uploads/logo.jpg
Borgen Project
2015-06-15 10:08:58
2020-07-15 23:35:12
World Hunger Down, but Problems Persist in India and Africa