Hungry Planet: What Does the World Eat?

A project called Hungry Planet depicts what an average family consumes in a week. Ranging from $325 in Germany to $1.23 in Chad, food costs are based on many factors including environment, culture and economy.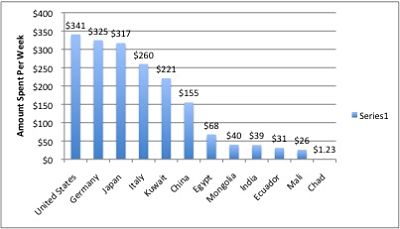 An average family in the United States spends about $150 per week on food, according to a 2012 Gallup poll. Hungry Planet depicted a few American families who spent various amounts per week ranging from $341 in North Carolina to $242 in Texas and $159 in California.
The United States Department of Agriculture performed a study in 2011 that revealed what Americans eat. The results include: 632 pounds of dairy products, 415 pounds of vegetables, 273 pounds of fruit and 183 pounds of meat and poultry. Perhaps the most shocking result is that Americans consume 141 of sweeteners and 53 gallons of soda in a year. Of the 415 pounds of vegetables that Americans consume, 29 pounds are french fries.
In Kuwait, the average four-person family spends the equivalent of $221 per week on food. Because most of the land in Kuwait is not well-suited for agriculture due to soil infertility, water scarcity, unfavorable climate or lack of a trained labor force, much of the food comes from the water. Fish and crustaceans are plentiful in the Persian Gulf, but most of the food commodities are imported.
Those in Mali spend the equivalent of $26 per week on food, which consists mainly of rice, millet, sorghum, fish and vegetables. An Emergency Food Security Assessment conducted by the Government of Mali revealed that three out of four households in northern Mali are moderately to severely food insecure.
Chad, a country where people are barely spending the equivalent of one dollar per week on food, is heavily reliant on external assistance. Agriculture and farming is hindered by erratic rains, cyclical droughts and poor farming practices. A 2011 drought left the country in a severe food crisis in 2013.
Food insecurity is connected to education and environment. In Chad, access to basic education is limited, with an enrollment rate of 36 percent and adult literacy rates of 21 percent for women and 43 percent for men.
Improved literacy is one factor in increasing the understanding of agricultural and sustainable practices, which can increase food production. Advanced technologies to control excessive rains or draughts also benefit farming practices. When policies aimed at enhancing agricultural productivity are combined with education and climate control technologies, the effect will be a positive change to create more vibrant markets, employment opportunities and economic growth.
– Haley Sklut
Sources: Time, USDA, GALLUP, Our Africa, World Food Programme, UN-FAO
Photo: Time
https://borgenproject.org/wp-content/uploads/logo.jpg
0
0
Borgen Project
https://borgenproject.org/wp-content/uploads/logo.jpg
Borgen Project
2014-03-09 04:00:22
2018-01-16 13:30:42
Hungry Planet: What Does the World Eat?