Equal Humanitarian Assistance for Elderly Refugees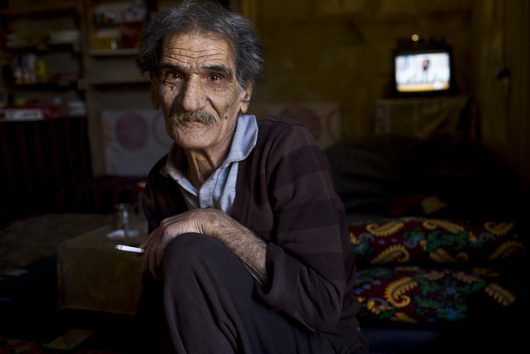 Despite UNHCR regulations that call for adequate humanitarian assistance for elderly refugees, older people are often not the focus of aid programs. Organizations such as HelpAge International, however, along with UNHCR, are working to improve services and care for elderly refugees by developing a more comprehensive understanding of their struggles and needs.
Lack of Humanitarian Assistance for Elderly Refugees
Older persons, defined by the UN as people over 60 years of age, are particularly vulnerable when displaced from their homes. Lack of mobility, chronic illness or weakened vision can hinder their ability to flee. They may also be reluctant to leave, concerned about becoming socially isolated or physically separated from their families. A study of eastern Ukraine found that approximately half of all the older people remained home when the conflict began and that many were left behind due to their reduced mobility.
Even after older people manage to leave, humanitarian assistance to elderly refugees may not fully address their needs. An Overseas Development Institute report explains that "while humanitarian principles require that aid is delivered in an impartial manner, based on needs alone, in emergencies humanitarian organizations tend to implement blanket, one-size-fits-all programmes that fail to adequately address the specific vulnerabilities of older people."
One of the primary reasons for this is that elderly refugees make up a small percentage of refugee populations, approximately 8.5 percent. This leads them being deprioritized in favor of larger demographic groups, including women and children. It is estimated, however, that by 2050 there will be more people over the age of 60 than under the age of 12.
Needs of Older Refugees Neglected
Areas in which the needs of elderly refugees are not always properly addressed include safety, protection, nutrition, medical services and mental health. Elderly refugees have a greater risk of experiencing violence, including sexual and domestic abuse. They are also likely to be exploited by family members. These risks are greater for women, those with disabilities and LGBT individuals.
Additionally, older people need food that is easy to eat and digest, and may become malnourished due to their inability to consume regular food. UNHCR reported in 2016 that humanitarian assistance for elderly refugees generally does not meet the food requirements of older people.
Two-thirds of elderly refugees have been found to suffer from poor physical health. In a study about older Syrian refugees in Lebanon, it was found that most of them had at least one non-communicable disease: 60 percent had hypertension, 47 percent had diabetes and 30 percent had some form of heart disease, indicating a need for more comprehensive health services.
Mental health is also a significant area of concern. Older people, who often have a great deal of prestige and important societal roles, find that they lose much of their influence, power and resources when they become refugees. This is partly due to the fact that one of their main resources, life experience, is less relevant in new, unknown settings. Western values and education serve to give more prominent roles to younger people.
The loss of their traditional roles in addition to the trauma resulting from conflict and fleeing was found to have caused depression and mental illness among older South Sudanese refugees in a study published by the Overseas Development Institute. Respondents indicated that they felt isolated from their community and families, sensing that younger generations no longer respected them. They were also concerned that their families would grow tired of having to care for them.  
Uncertainty about being able to return to their homes can also cause psychological stress in elderly refugees. The family of Dagha, a 101-year-old Syrian refugee, stated that she often cries in her sleep and that her greatest fear is that she will die in Lebanon. Dagha reportedly asked her family to promise that they will bury her in Syria.
Providing Humanitarian Assistance
Improving humanitarian assistance for elderly refugees is an attainable goal. Aid organizations have the funding needed to make older refugees a greater priority, and an article in The Guardian explains that "mindset is the main barrier to inclusive humanitarian assistance, not money."
UNHCR has a renewed commitment to focusing on elderly refugees and has outlined several practices ensuring aid is used to meet their needs. First, it is important to communicate with older people, both about their specific needs and concerns, and the services available to them. Important messages need to be in a format that elderly refugees can access. Working with older people to determine what works best for them is vital.
Older people should also be prioritized in reunification efforts and moving forward they should not be separated from family members. Additionally, the needs of elderly refugees should be considered when designing shelters and settlements.
In response to mental health concerns, aid workers need to improve their understanding of what elderly refugees want out of their lives in new and unfamiliar locations. Many South Sudanese informants stated that they wished to regain the societal and familial roles they had held before leaving.
With the help of organizations such as HelpAge International and UNHCR, humanitarian assistance for elderly refugees will hopefully begin to improve, moving toward fully addressing their needs and concerns. Life for elderly refugees will likely continue to be difficult, but better aid can lessen their struggles and improve their general livelihoods.  
– Sara Olk
Photo: Flickr
https://borgenproject.org/wp-content/uploads/logo.jpg
0
0
Borgen Project
https://borgenproject.org/wp-content/uploads/logo.jpg
Borgen Project
2018-10-02 14:37:01
2019-07-19 07:47:32
Equal Humanitarian Assistance for Elderly Refugees