How to Help People in Bahrain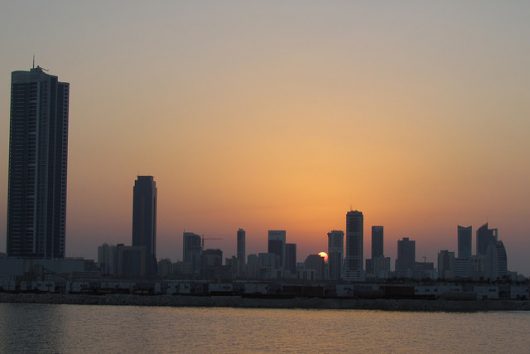 Bahrain was predicted to have a significant amount of fiscal debts in coming years in July 2016. The debt of Bahrain's government was expected to rise from 44 percent in GDP (gross domestic product) in 2014, to 83.7 percent in 2016. The answer to how to help people in Bahrain is to prevent such predictions from coming true, and solutions can be seen through the country's recent opportunities.
The Economic Development Board characterizes Bahrain as a "legislative sector" and "strong financial system," — a standing which attracts investors. Bahrain is also able to transfer profits, funds and capital without restrictions. Bahrain's free and open economic policy has given its country the reputation of a fast-growing financial center in the Middle East.
As for Bahrain's labor productivity rate, the country has seen only a 17 percent increase in this sector over the past 25 years. Compared to countries with labor productivity rate increases of 21 percent, Bahrain's rate is relatively small. Bahrain also increased its employment rates by offering jobs to citizens in the country's public sector. However, the jobs were low-wage, causing Bahrain to face a shortage of quality employment.
Hamad bin Isa Al Khalifa (Bahrain's king in 2008) launched a development program called Vision 2030 to improve Bahrain's economy. The program aimed for more Bahraini families to have twice as much disposable income by 2030. Less than a decade after Vision 2030's launch, Bahrain's economy has grown by 28 percent, and from 2009 to 2014 international investments into Bahrain have risen threefold.
Infrastructure investments in Bahrain have helped the country boost its non-oil sector by 3.7 percent. The sectors that helped this growth were particularly strong in financial performance, social services and construction. Additionally, Bahrain's volume of active projects doubled from $1.6 billion in the first quarter of 2016 to $3.2 billion in February 2017.
After a six-year absence from Bahrain, Ethiopian Airlines announced in July 2017 that it would resume its services to the country. Ethiopian Airlines will offer three flights per week between its base in Addis Ababa-Bole and Manama (Bahrain's capital). The airline calls Bahrain a "centre of the main trade routes" with a decade's worth of growing economy; this too shows how to help people in Bahrain.
Bahrain's manufacturing sector accounts for 14.4 percent of the country's GDP. Bahrain also has investment and international growth opportunities in the sub-sectors of food, industrials, and beverage (F&B) and fast-moving consumer goods (FMCG).
The country plans to invest $32 billion in infrastructure projects in the coming years as well. One-third of the expenses will go toward Bahrain's manufacturing sector.
Bahrain also works to enhance infrastructure and create more attractions to increase tourism. Earlier this year, Bahrain held an event called "Shop Bahrain" that managed to attract 130,000 shoppers from Saudi Arabia, Kuwait and other neighboring Gulf states. More business coming to Bahrain could mean more job opportunities for Bahrain's citizens.
With trade, tourism and Vision 2030, Bahrainis may have many economic opportunities to come. This could prove especially helpful for the four percent of unemployed Bahrainis. These opportunities and the efforts in place to help the country's economy demonstrate feasible methods of how to help people in Bahrain.
– Rhondjé Singh Tanwar
Photo: Flickr
https://borgenproject.org/wp-content/uploads/logo.jpg
0
0
Amy
https://borgenproject.org/wp-content/uploads/logo.jpg
Amy
2017-08-29 01:30:04
2020-06-25 09:46:48
How to Help People in Bahrain