How the Red iPhone 7 Fights AIDS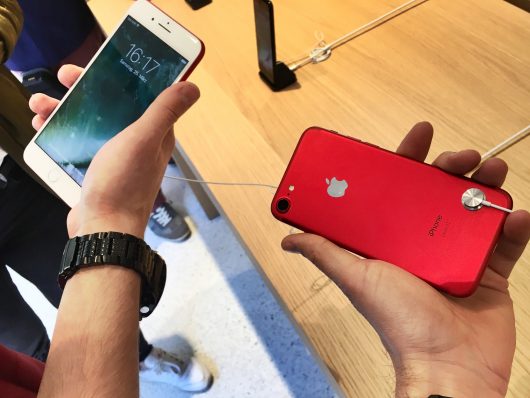 Recently, Apple released a special edition of its iPhone 7 in collaboration with Product Red, a licensed brand owned by (RED). The red iPhone 7 fights AIDS, as each purchase contributes to the Global Fund to support HIV/AIDS programs and contributes to the goal of an AIDS-free generation.
The device's bold finish was created in recognition of more than 10 years of partnership between Apple and (RED). "Since we began working with (RED) 10 years ago, our customers have made a significant impact in fighting the spread of AIDS through the purchase of our products, from the original iPod nano Product Red Special Edition all the way to today's lineup of Beats products and accessories for iPhone, iPad and Apple Watch," Apple CEO Tim Cook said.
Made available to order online worldwide and in stores March 24, the red iPhone 7 fights AIDS through its ties with the Global Fund. Founded in 2002, the Global Fund is a partnership organization between governments, civil society and the private sector to the AIDS, tuberculosis and malaria epidemics. Apple is the world's largest corporate donor to the Global Fund and has contributed more than $130 million through its partnership with (RED). The distribution of the Product Red iPhone achieves a global reach of the world's most loved smartphone, while providing access to life-saving medication in disadvantaged countries, allowing customers the unique opportunity to make a difference through a single purchase.
The various (RED) HIV/AIDS programs are centered mainly in sub-Saharan Africa, home to more than two-thirds of the world's HIV-positive population. Since (RED)'s launch, it has generated $465 million to support the Global Fund and impacted 90 million people through HIV/AIDS grants in Ghana, Kenya, Lesotho, Rwanda, South Africa, Swaziland, Tanzania, and Zambia. One hundred percent of all money raised by (RED) goes directly to Global Fund HIV/AIDS grants that provide testing, counseling, treatment, and prevention programs with a specific focus on eliminating transmission of the virus from mothers to their babies.
While the latest release of the familiar Apple product might seem like yet another technological addition, the greater cause behind it is certainly worth significant attention. The red iPhone 7 fights AIDS by delivering tangible forms of aid and treatment for individuals affected, emphasizing how even a pocket-sized object can have an immense impact on those in need.
– Mikaela Frigillana
Photo: Flickr
https://borgenproject.org/wp-content/uploads/logo.jpg
0
0
Borgen Project
https://borgenproject.org/wp-content/uploads/logo.jpg
Borgen Project
2017-04-06 01:30:37
2020-04-29 16:03:57
How the Red iPhone 7 Fights AIDS