Google Earth Shines Spotlight on Slums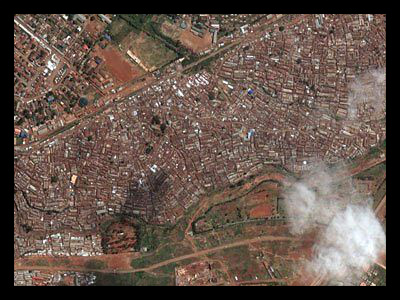 Government officials in India are notorious for ignoring the millions of people who live in the slums near big cities. Sangli is one such city. Over 3,900 families occupy makeshift huts in Sangli and, for the first time, Good Earth is documenting their existence. International Aid Organizations are thrilled that these images will put a face, so to speak, to the thousands of people living in these slums. Now that the unbelievable conditions of the slums are documented for the world to see, Sangli officials are being held to a higher accountability and progress is being made towards providing real homes for those living in the slums.
These images make public the sanitation issues inherent in the slums, as occupants of the slum exist without access to toilets or faucets. When and if new buildings are constructed for those living in the slum, sanitation is one of the first problems that will be addressed.
Even though it would be easier to build a new community in the suburbs of Sangli, research shows that most people cannot afford to commute into the city every day for work. Those who previously moved to the suburbs to escape the slums actually ended up moving back within a short period of time. Shelter Associates, a nonprofit geared toward improving the lives of those living in slum conditions, plans to create living spaces that will mimic the communal environment slum occupants have grown accustomed to.
The reason why Shelter Associates is having difficulties following through with the new building plans is because the local government continues offer limited concern and attention to slum dwellers. For the most part, the Sangli government has acted as if these people do not exist. Now, with the images provided by Google Earth, Shelter Associates is hopeful that the government can no longer continue its negligence policies.
The slums in Sangli are not the only slum communities being exposed by Google Earth. Slums in Altos de Cazuca, Colombia (50,000 people), Comuna 13, Columbia (135,000 people), Kamagasaki, Japan (30,000 people per every 200 meter radius), Ashaiman, Ghana (200,000 people), Kibera, Kenya (170,000 – 250,000 people), Rocinha, Brazil (250,000 people), Sultanbeyli, Turkey (250,000 people), Petare, Venezuela (600,000 – 1 million people), Dharavi, India (1 million people), Sadr City, Iraq (2 million people), Orangi town, Pakistan (700,000 – 2.5 million people) and Neza-Chalco-Itza barrio, Mexico (4 million people) are now all shown on Google Earth.
Without these images, international aid organizations sometimes struggle to verbally describe the horrific conditions in the slums. Hopefully, Google Earth will be able to erase apathy towards those who live in these slums and support for aid efforts will grow.
– Mary Penn
Sources: Time, Business Insider
https://borgenproject.org/wp-content/uploads/logo.jpg
0
0
Borgen Project
https://borgenproject.org/wp-content/uploads/logo.jpg
Borgen Project
2013-08-02 04:42:17
2017-02-22 12:28:53
Google Earth Shines Spotlight on Slums