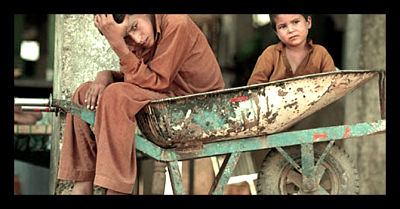 Malala Yousafzai's speech at the UN called for "free, compulsory education all over the world for every child." Her speech was a reminder that back in her home country of Pakistan several million children are unable to attend school, exploited for their labor, and abused.
The most recent annual State of Pakistan's Children report—published by the Islamabad-based NGO Society for the Protect and Rights of the Child (SPARC)—found that, out of 120 countries, Pakistan has the second largest number of children not attending school. 5.1 million Pakistani children ages 5 through 9 are not attending an educational institution. A large portion of these children end up in the workplace.
Child labor is a widely accepted social norm in Pakistan for both boys and girls. These children are denied their rights to education, protection, health, and development, and are also highly susceptible to abuse and exploitation. Figures on the exact number of child laborers in Pakistan are somewhat unreliable, with estimates ranging from 3.3 million to 12 million.
According to an estimate from The International Labor Organization, one quarter of these children are involved in the worst forms of child labor—slavery, commercial sexual exploitation, the use of children for committing crimes, and work that is harmful to the health and safety of children. The Pakistan Bureau of Statistics 2010-11 Labor Force Survey estimates the number of child workers to be around 4.29% of the country's children ages 10 through 14.
The only major law relating to child labor is the Employment of Children Act 1991, which regulates child labor for children under 14 years of age and prohibits it in specific occupations. However, the law is rarely enforced, especially in the area of domestic labor.
Earlier this month an incident was reported in which a wealthy employer had beaten her 13-year-old servant to death after he dropped a jug. The incident was widely covered by the media and confirmed by the police in the area. Such stories are not unusual. According to SahibaIrfan Khan, the program officer at SPARC, thousands of children working as domestic servants are deprived of their basic right to education and are often subjected to abuse and violence.
Other data compiled by the organization shows at least 18 confirmed cases of severe torture and abuse of child domestic laborers. 13 of these children died as a direct result of the violence inflicted upon them at the hands of their employers.
– Scarlet Shelton
Sources: IRIN, Pakistan Bureau of Statistics
Photo: Dawn
https://borgenproject.org/wp-content/uploads/logo.jpg
0
0
Borgen Project
https://borgenproject.org/wp-content/uploads/logo.jpg
Borgen Project
2013-08-02 04:41:37
2016-03-15 17:18:22
Homework, Not Housework