Gayle Smith: The Next USAID Chief?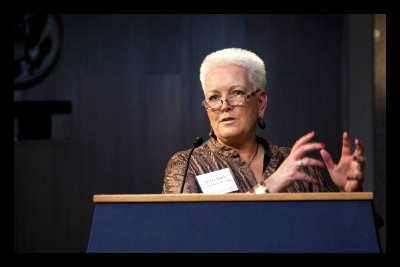 Since President Obama's announcement of his nomination of a new USAID Chief to replace Rajiv Shah, the name Gayle Smith has been echoed throughout political websites, blogs and news media platforms. With the conversation focused on Gayle Smith, many debate whether she is the prime candidate to head the world's largest bilateral aid organization.
Gayle Smith is no stranger to development circles. As an African regional expert and former senior leader of 6 years for the National Security Council, Smith has addressed a record setting number of humanitarian crises.
Among her accomplishments is her oversight of the Open Government Partnership, a corruption-fighting initiative encouraging transparency among world governments as well as the empowerment of their citizens. She also oversaw the creation of Power Africa, an aid program fostering connections between African energy firms to allow electricity access to some of the continent's 6 million who are without power.
Home to the Central African Republic, who has the world's lowest economic growth rate of negative 36 percent, Africa looks to be a region in need of special attention. A USAID leader specializing in African development might just be the key. Smith has already pronounced herself a proponent of aid to Africa in her prioritization of Power Africa, and could be a valuable asset to the advancement of the numerous countries struggling to keep poverty rates at bay while stimulating economic growth.
Before working alongside President Obama as part of the National Security Council, Smith co-founded the Enough Project in 2006, an organization working to stop crimes against humanity and end genocide in some of the world's most dangerous regions. The Enough Project first obtains information on the ground, then determines the best solution and mobilizes Washington and the American public to promote policies that work toward a better world. Smith has had an evident history not only of addressing the world's atrocities, but of working through political leaders to become agents of change in the international arena; a task that is not always easy with regard to issues of genocide and poverty.
"I want somebody who knows all the players, who knows all the levers of power, who's familiar with them," Howard Berman, former congressional representative for California commented.
For those seeking a new player who knows the ropes, optimism is in the air. Smith has already been recognized as a development 'insider'. Jim Kolbe, former congressional representative serving Arizona stated, "Few people know development as Gayle Smith does, and fewer still understand the intricacies of the spaghetti bowl that makes up our whole aid/development system."
With Smith's demonstrated knowledge of the inner-workings of the world of aid organizations and development agencies, many are hoping she will be able to continue to steer USAID on the track of reform while promoting a more flexible decision-making process.
Ritu Sharma, co-founder of Women Thrive Worldwide, is confident that Smith is the right person to succeed Shah. She believes that Smith even has enough clout to change some of USAID's most stubborn patterns. Sharma stated, "A big problem with our aid is that there's so little flexibility. When the train's going in the wrong direction, [we] can't change tracks."
Given Smith's past experience and insider knowledge of the system coupled with the leverage she holds, one thing we do know for certain is that if confirmed, she could be a highly influential leader of USAID with the power to not only support a number of recent humanitarian needs, but also to promote critical reform within the organization.
– Amy Russo
Sources: The Hill, Whitehouse.gov, Enough Project, Devex
Photo: Flickr
https://borgenproject.org/wp-content/uploads/logo.jpg
0
0
Borgen Project
https://borgenproject.org/wp-content/uploads/logo.jpg
Borgen Project
2015-05-30 08:00:16
2020-07-18 02:01:35
Gayle Smith: The Next USAID Chief?