Foodborne Illness in Southeast Asia Impacts Poverty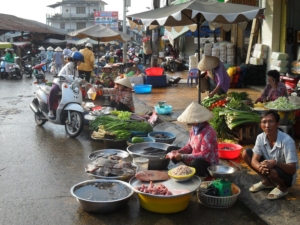 Every year, one in 10 people across the world become infected by a foodborne illness, according to the World Health Organization (WHO). These are known to cause a wide range of symptoms from the milder, which may result in a long day in the bathroom, to the more severe, which can cause meningitis, sepsis and even death. Though common throughout the world, foodborne illnesses affect some regions more than others in both spread and severity, with the greatest impact on the poorest areas. The Asian Development Bank estimates that 4.7 million people in Southeast Asia fell into poverty in 2021, making safe food and other necessities harder to access. Due to these factors and others, there is a higher prevalence of foodborne illness in Southeast Asia.
The Current Standing of Foodborne Illness in Southeast Asia
High rates of both population and economic growth among Southeast Asian countries contribute to an increase in demand and production of food. But, higher agricultural output, especially meat production, the advent of foodborne illness has become more likely.
In 2015, the WHO created the first-ever global estimate of the burden of foodborne illness. Based on 2010 data, it estimated the existence of more than 150 million foodborne illnesses in Southeast Asia. These infections proved fatal for 175,000 people in the region, with children under 5 accounting for one-third of global deaths due to diarrhea. These diseases can also be disabling with side effects often including brain disorders, cancer and organ failure.
The four most prevalent causes of foodborne illness in Southeast Asia include Campylobacter species, Shigella species, Enterotoxigenic E. coli and Non-typhoidal S. enterica. Each is estimated to burden more than 15 million Southeast Asian people with bouts of sickness every year. Various forms of Salmonella and E. coli are the most life-threatening while norovirus and hepatitis A contribute to thousands of fatalities as well.
How Foodborne Illness in Southeast Asia Exacerbates Poverty
Diseases caused by foodborne illnesses result in "an annual loss of 33 million years of healthy life," Felicia Wu, a food scientist who works with the WHO and for Michigan State University, told NPR in 2015. With thousands dying every year, the possibility of children losing one or both parents to a foodborne illness is a real threat. The loss of a parent can do harm to human capital development. For instance, a study by Kathleen Beegle and others found that maternal orphanhood leads to a loss of two centimeters of final height and one year in school.
Even when these diseases do not lead to the worst outcomes, they can still have major effects on the short-term well-being of those in poverty. For instance, while rarely fatal, those infected with the Campylobacter species, the most prevalent foodborne illness in Southeast Asia, will experience painful symptoms for a week on average. A week or more of debilitating symptoms can likely mean time off of the job. With so many people infected with these diseases in the region, this can have broader effects on the economy. In the Southeast Asian country of Indonesia, there is a projected cost of $4.7 to $16.7 million from diarrhea caused by foodborne illnesses alone.
Improving Standards through Multilateral Institutions
In 2016, an estimated 60 million people endured undernourishment in Southeast Asia, making food security high on the policy priorities of countries in the Association of Southeast Asian Nations (ASEAN), the intergovernmental body responsible for facilitating cooperation between the nations. Trade between Southeast Asian nations has been an important tool in countering this.
But, with trade, one country's foodborne illnesses can quickly become another's. To address this, ASEAN set up a Food Safety Policy in 2015 for better practice and enforcement of food safety standards. Some of the actions that this policy takes include support for small and medium-sized producers to adhere to food standards, a rapid alert system for disease tracing and transparency requirements concerning all new food safety laws.
Improving Practices with the ILRI
While news laws and standards set up an improved framework, especially for producers involved in regional trade, nearly all of the agriculture in Southeast Asia is informal. While these informal producers are more accessible to most, they are also harder to regulate, creating greater potential for hazards.
The International Livestock Research Institute (ILRI), an intergovernmental organization based in Kenya and Ethiopia, is working to improve local producers' practices on the ground in Southeast Asia through a number of programs. In 2017, the ILRI began the SafePORK project to counteract disease from pork in Vietnam. This project has helped teach better pork safety practices and risk communication methods to small-scale producers across the country. With more confidence in the pork supply, the president of one pork cooperative told ILRI that there is more stability in its supply chains and it is making between 10-15% more on sales.
Looking Ahead
Though the incidence of foodborne illness remains high in Southeast Asia, the work of multilateral institutions and international scientific organizations have created frameworks to reduce the prevalence.
– Joey Harris
Photo: Flickr
https://borgenproject.org/wp-content/uploads/logo.jpg
0
0
Saiesha
https://borgenproject.org/wp-content/uploads/logo.jpg
Saiesha
2022-08-10 06:20:40
2022-08-12 09:56:54
Foodborne Illness in Southeast Asia Impacts Poverty