4 NGOs Fighting Water Scarcity in Ethiopia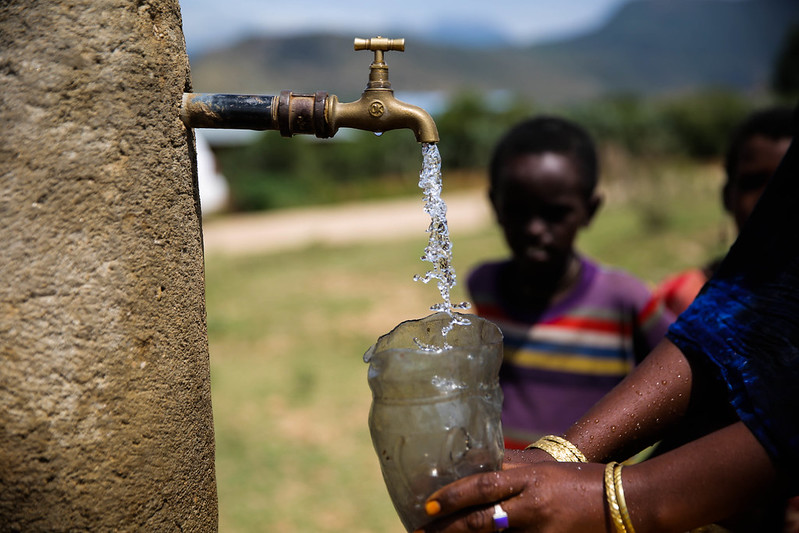 Only 57% of Ethiopians have access to clean water today. Time spent searching for clean water, a place to use the bathroom and money spent to treat waterborne illnesses contributes to the poverty crisis by impeding education and potential financial growth. These are four NGOs fighting water scarcity in Ethiopia.
Water4Ethiopia
Water4Ethiopia is an independent charity based in London working to improve water insecurity in Ethiopia. The organization has helped about 5,300 Ethiopians access clean water.
In many parts of Ethiopia, safe water is in relatively shallow ground, but the water supply is easily contaminated. Water4Ethiopia works with people local to the area to construct a protected hand-pumped well and treat it with a small amount of chlorine. Water4Ethiopia builds capped springs that transfer water to distribution points.
Water4Ethiopia has installed capped springs that move water to distribution points in Beku Golba, Saglie and Dodo. Hand-dug wells with pumps to distribute water have improved water conditions in Ababari, Kolle, Kidanemihret, Lower Woibla, Maje-Azwara, Mewagna and Kufif. Water4Ethiopia also implements hygiene and sanitation programs to ensure safe, clean water is readily available.
There are in-progress projects that Water4Ethiopia organized to meet its mission to end water scarcity in Ethiopia. Water4Ethiopia hopes to implement hand-dug wells with hand pumps in communities such as Lolo and Marwenz.
Lifewater
Lifewater is an organization that focuses on regions that are hard to reach and implements custom solutions to improve water scarcity in Ethiopia. Lifewater has built over 500 water sources in more than 395 villages. About 88% of WASH solutions are still running, and more than 198,000 people have improved their water sanitation. A core value of Lifewater is "serving the least, the lost, and the last."
There are five types of custom water solutions engineers at Lifewater use that include hand-dug wells, drilled wells, protected springs, rainwater harvesting and rehabilitated wells. A team of engineers collaborates with the community to determine the best approach for a specific community. Every village is different in its resources, population, distance from water sources and time spent in line waiting for water.
Testing water quality has allowed 88% of water solutions to remain in place and continue to provide communities with water. The goal is to meet the WHO guidelines for having international water sources within one kilometer of one's house with waiting times of less than 30 minutes.
Lifewater lists fundraisers on its website and shares periodic updates for funding and the progress of water solutions. Recently completed water projects in Ethiopia include hand-pumped wells in Erbaye Huleti, Kenchota and Shefele.  
The Millennium Water Alliance Ethiopia Program
The Millennium Water Alliance (MWA) has created a sustainable water, hygiene and sanitation (WASH) program outlining a five-year plan to help Ethiopia attain clean, low-cost water by 2030. This plan prioritizes increasing access in schools and hospitals, the functionality of water solutions and budgeting to ensure solutions last.
The MWA has recently taken a broader approach to improve water conditions. The organization considers the big picture rather than only focusing on infrastructure by focusing on sustainability to ensure water solutions operate long-term.
Researchers at the MWA utilize water point data to determine which districts in Ethiopia need WASH assistance. The Water Point Data Exchange (WPdx) works alongside the WASH program to monitor water accessibility and cleanliness in regions. Reporting collected data on the WPdx allows for collaboration between NGOs and the Ethiopian government to allocate resources.
The MWA also continues to learn about water scarcity in Ethiopia and effective methods to share with other NGOs or government organizations to recreate similar infrastructure in other regions. Thus far, the MWA has successfully provided clean water in Ethiopia for more than 2 million people in hard-to-reach areas.
Hope H2O
Hope H2O is a Canadian volunteer organization that develops educational and WASH projects in Ethiopia. Its mission is to enhance water sanitation and quality of life for Ethiopians. Dating back to 2010, Hope H2O has assisted more than 25,000 Gimbichu District residents.
Hope H2O strategies include large concrete reservoirs, water taps, drains and technology to track usage. All materials used for infrastructure came from Ethiopian merchants and community members that professional plumbers and masons assisted.
The organization works to ensure water points are accessible to most of the community and that the community understands proper sanitary procedures to keep water access points clean. Hygienic methods taught include consistent hand washing and designated family latrine pits that will not contaminate nearby water sources.
Work done in the Menjigsso Gora community improved an old government-installed pump and stationed a generator to extract safe water into a reservoir with a wide service zone. Creating water points in the local elementary school improved school conditions and education in the community, as it was previously difficult to retain teachers.
Hope H2O is currently in phase two of its project in Germama Village. The project entails the construction of sanitary water facilities and community sanitation education. COVID-19 and political unrest halted progress for about six months in 2020 until construction resumed.
Looking Ahead
Access to clean water is a human right vital for the health of Ethiopians and the fight against global poverty. Without water, families are unable to handle other factors contributing to their financial state. It is important to ensure every person has access to basic human needs and these NGOs are working towards that goal.
– Mikada Green
Photo: Flickr
https://borgenproject.org/wp-content/uploads/logo.jpg
0
0
Naida Jahic
https://borgenproject.org/wp-content/uploads/logo.jpg
Naida Jahic
2022-11-07 01:30:54
2022-11-03 06:26:06
4 NGOs Fighting Water Scarcity in Ethiopia