Creating Female Entrepreneurs in Afghanistan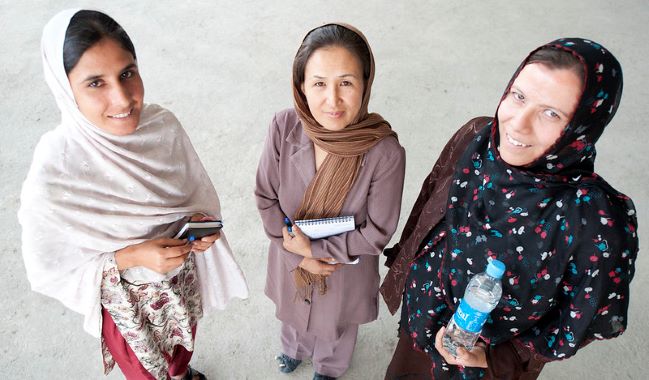 It is no secret that women's rights in Afghanistan have been suffering due to decades of war and Taliban rule in the country. Afghan women have endured the denial of employment, education, health care and basic freedoms for years and faced violent punishment by the Taliban for attempting to find work or go to school. Years after Taliban rule, women are picking up the pieces of a broken society that drove them and many other Afghans into severe poverty. Organizations such as the Women's Economic Empowerment Rural Development Project (WEERDP) and the Afghanistan Reconstruction Trust Fund (ARTF), both funded and backed by the World Bank, set up savings and loan associations in different communities to allow Afghan women to start their own businesses. Female entrepreneurs in Afghanistan have the potential to help the economy and reduce poverty within the country.
Women's Empowerment Projects of the World Bank
International aid to Afghanistan is essential for empowering Afghan women and bringing communities out of poverty. The World Bank has a variety of programs dedicated to poverty eradication. It implemented the Afghanistan Rural Enterprise Development Project to support Village Savings and Loan Associations (VSLA). VLSAs operate as a community bank that gives out micro-loans to women to create employment opportunities to sustain economic growth. Examples of businesses started by women are hair salons, tailor shops and bakeries.
While the Afghanistan Rural Enterprise Development Program came to a close in 2018, WEERDP replaced it and continues to receive backing from the World Bank and the International Development Association (IDA) to ensure steady funding.
VSLAs receive funding from the World Bank and the IDA to ensure sustainable financial institutions are available in Afghanistan, with the hope that the VSLAs will partner with larger commercial banks in the future.
Benefits of Female Entrepreneurs in Afghanistan
There are roughly 275,684 Afghan women beneficiaries of the WEERDP. Many of them have had access to financial services for the first time with the program. Many others are taking loans, learning how to repay these loans and beginning to save for the future. These are valuable life skills for women who could not enter the workforce or gain an education in the past.
With the increase of women-run businesses in Afghanistan's rural communities, VSLAs can begin to partner with larger banks to begin serving bigger loans to women after seeing the success of the businesses that began with micro-loans. The support of financial institutions is important to give women the confidence to become entrepreneurs, especially in a country where the percentage of women in the workforce is statistically low. Skills like leadership, management and problem-solving are derived from starting a business and female entrepreneurs can spread these skills throughout communities to strengthen the role of women in the economy.
These women can even pass down the skills through generations. Building a structure with programs like the WEERDP is vital for long-term economic growth and success because it can open doors for creativity and innovation for an economy that would benefit.
The Future of Female Entrepreneurs in Afghanistan
Increasing the number of women entrepreneurs with savvy financial skills can benefit the communities of Afghanistan in many ways. Successful women can begin to venture out into local politics and health care fields to build on their skills while sharing their talents with the community. Women have important input on what types of businesses their communities need and can reduce poverty in specialized ways.
Afghan women make up roughly half of the nation's population, so their representation is necessary to drive economic and societal progress. The visibility of women in the business sector can allow for gender equality to improve in Afghanistan over time, improving the development of the nation as a whole.
– Julia Ditmar
Photo: Flickr
https://borgenproject.org/wp-content/uploads/logo.jpg
0
0
Kim Thelwell
https://borgenproject.org/wp-content/uploads/logo.jpg
Kim Thelwell
2021-02-04 07:30:33
2022-05-11 07:59:51
Creating Female Entrepreneurs in Afghanistan