4 Facts About Poverty in Iraq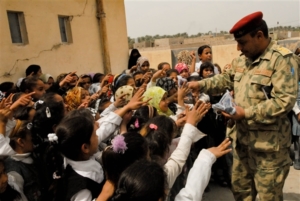 About 22% of Iraqis live in poverty. Poverty in Iraq is a dynamic issue, the facets of which have changed with the country's progress and efforts at modernization. Urbanization and the discovery of vast oil reserves have adversely impacted Iraqis with corruption and conflict driving poverty rates up. The following are four exceedingly relevant facts about poverty in Iraq and what the International Rescue Committee (IRC), a nongovernmental organization that emerged in 1933 to respond to international humanitarian crises, has done to help since entering Iraq in 2003.
4 Facts About Poverty in Iraq
Looking Ahead
Despite expansive oil profits flooding into the Iraqi system, this money does not reach ordinary Iraqis who struggle to provide for their families. The failure of urbanization, stark unemployment and violent conflict with ISIS have exacerbated the lack of action from corrupt business and political leaders to address the systemic issue of poverty.
Experts expect global poverty to worsen during the current COVID-19 pandemic, especially in Iraq. Combined with the recent crash in oil prices, this will likely lead to serious unrest in a country that has struggled for decades to bring about some semblance of effective governance. Despite the ongoing issues that these four facts about poverty in Iraq show, hope continues to live on thanks to organizations like the IRC that are able to provide aid.
https://borgenproject.org/wp-content/uploads/logo.jpg
0
0
Jennifer Philipp
https://borgenproject.org/wp-content/uploads/logo.jpg
Jennifer Philipp
2020-06-22 07:30:31
2022-03-10 10:11:06
4 Facts About Poverty in Iraq