10 Key Facts About Poverty in Algeria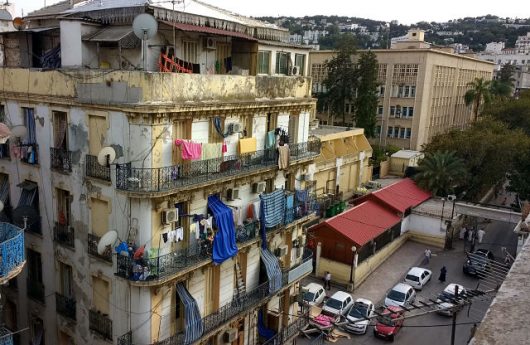 Despite its rich oil resources, Algeria faces long-term challenges from a lack of diversity in the economy, a relatively high unemployment rate — especially among youth and women — and regional inequalities. These 10 facts about poverty in Algeria will recount the recent ups and downs of the upper middle income country.
Top 10 Facts About Poverty in Algeria
According to a World Bank estimation published this year, unemployment rate in Algeria has been on the rise  from 10.5 percent in September 2016 to 11.7 percent in September 2017. Unemployment among women and youth is disproportionately high: the first half of 2016 saw a 16.6 percent female unemployment rate and a 29.9 percent for young people.
Even though official data given in 2011 reported a 5.5 percent poverty rate with a 0.5 percent extreme poverty rate, about one tenth of the population are thought to be susceptible to re-entering poverty. Other sources, however, report much higher rates in more recent years. Al Jazeera, the state-funded broadcaster in Doha, Qatar, wrote in April 2014 that the country has a 23 percent poverty rate.
Regional differences in poverty are significant in Algeria. The World Bank points out that poverty level is the national average doubled for people residing in Sahara, and tripled for people of the Steppe.
Algeria has high economic inequality; the consumption rates of the rich and poor are separated by as much as 27.7 percent.
According to the Algerian League for the Defense of Human Rights, the country has 400,000 children drop out of schools annually. Rural areas bear most of these dropouts due to poverty and poor maintenance of local schools.
The Algerian currency has been devalued throughout the past five decades, from 4.94 dinars per U.S. dollar in 1970, to 116 dinars per U.S. dollar in May of this year. This discrepancy exists predominantly due to the government's efforts to artificially lower its budget deficit and keep up oil taxes. At the same time, the government is heavily subsidising imports to make them more affordable, which ultimately increases the country's dependency on imports as the country should be striving to construct a productive economy to provide employment opportunities.

Algeria is extremely dependent on its oil resources for economic growth. The hydrocarbonic sector makes up 95 percent of Algeria's exports, occupying 60 percent of the governmental budget. This area of production doubled the state's fiscal deficit in 2015, as oil prices plummeted and affected the already unprivileged.

Medical care is limited due to low population density and poverty in rural areas. Thus, some regions in Nigeria still face high maternal and under-five mortality rates.

The government of Algeria has been criticized for corruption, especially in areas of infrastructure construction and oil. A national commission was enacted to battle such corruption in 2006, but not until four years later did seven members get appointed. In 2012, 2,000 cases of corruption were under investigation, but rarely resulted in convictions.

Algeria faces potential instability if oil prices remain low. People, especially the youth in Algeria, are discontent with the government, believing that the government has no concern for its citizens. Some are also concerned that another "Black Decade," referring to the country's civil war in the 1990s, lies ahead.
A New Direction
Algeria is in need of economic transformations, and has to figure out how to address its low domestic productivity effectively. An economic blueprint that is more community-based and under public supervision should be adopted in place of the currently stagnating attempts at adjustment.
– Feng Ye
Photo: Flickr
https://borgenproject.org/wp-content/uploads/logo.jpg
0
0
Borgen Project
https://borgenproject.org/wp-content/uploads/logo.jpg
Borgen Project
2018-07-23 01:30:04
2019-12-11 11:48:50
10 Key Facts About Poverty in Algeria