7 Facts about Life Expectancy in Côte d'Ivoire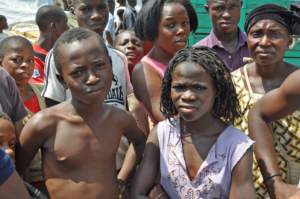 Côte d'Ivoire, or the Ivory Coast, is a West African country with one of the fastest-growing economies in the continent. However, its life expectancy at birth is one of the lowest in the world. Here are seven facts about life expectancy in
Côte d'Ivoire
.
7 Facts About life Expectancy in Côte d'Ivoire.
According to the CIA World Factbook, Côte d'Ivoire's life expectancy at birth is 60.1 years. Out of the 223 countries measured, Côte d'Ivoire ranks 209. This is 30 spots lower than its GDP per capita ranking.
One of the main causes of Côte d'Ivoire's low life expectancy is its alarmingly high infant-mortality rate. An estimated one out of every 16 babies born in Côte d'Ivoire dies, making it the number one cause of death in Côte d'Ivoire. This is the 14th highest rate in the world, but over the last 20 years, there has been a considerable improvement. According to Niale Kaba, Côte d'Ivoire's planning and development minister, the country's infant mortality rate has fallen from "112 for every 1,000 births in 1998 to 60 per 1,000 in 2016."
Côte d'Ivoire's life expectancy is also being suppressed by its high birth rate and lack of quality health care for both newborns and mothers. The average age of a mother's first birth in the Ivory Coast is roughly 19 years old and each woman will bear almost four children, on average. However, only 59 percent of births are overseen by a skilled birth attendant. The young age of mothers and the lack of health professionals guiding them through their pregnancies contribute to the Ivory Coast's ranking of 12th highest maternal mortality rate in the world.
A considerable lack of accessible sanitation facilities and clean water makes much of the Ivory Coast's population susceptible to disease. Around half of the schools in Côte d'Ivoire do not have toilets or water, forcing students to walk up to a kilometer just for clean water. Additionally, 60 percent of families do not have the means to regularly wash their hands with soap and water. These dangerous conditions increase the likelihood of death from preventable diarrheal diseases, which are the sixth deadliest condition in Côte d'Ivoire.
Alarmingly, 24,000 people die from HIV/AIDS in Côte d'Ivoire each year, the 10th highest rate in the world. While it no longer causes the most deaths in the Ivory Coast, every day five teenagers are infected with HIV/AIDS. Modern scientific treatments like antiretroviral therapy have been remarkably successful at combating this crisis, but less than 30 percent of HIV-positive children in Côte d'Ivoire are receiving the medication they need to survive. The lack of health care for these children is one of the main drags on the country's life expectancy, with more than 50 percent of HIV-positive children not on medication dying before the age of 2.
Education is one of the main drivers of increased life expectancy. Unfortunately, only 65 percent of Ivorian children are completing primary school. Additionally, less than half of the country is literate mostly due to prohibitive fees associated with schooling which excludes poor families. This lack of education severely limits the economic opportunities for the entire country. Experts agree that improving education in Côte d'Ivoire would increase the number of skilled laborers and lead to higher wages, a better quality of life and improved life expectancy. The International Cocoa Initiative has worked with over 600 communities to help get more children out of the fields and into school. They have seen a remarkable 20 percent increase in school participation rates, showing that there is hope for the future generations of Ivorians.
UNICEF has been crucial in helping the people of Côte d'Ivoire, funding numerous programs that have produced a substantial quality of life improvements. Whether it be offering HIV/AIDS testing, providing community wells or helping children escape dangerous working conditions, UNICEF is making a difference throughout the Ivory Coast. Groups like Action Against Hunger have followed in UNICEF's footsteps, partnering with Côte d'Ivoire's government to help run 12 community health establishments and providing 29,900 families with access to clean water.
While these seven facts about life expectancy in Côte d'Ivoire can be hard to grapple with, there is evidence that conditions are getting better. Improving access to education, medicine, healthcare and many other necessities will undoubtedly help pull millions of Ivorians out of poverty. With help from the international community, 20 years from now an article titled 10 facts about life expectancy in Côte d'Ivoire might not look so glum.
– Myles McBride Roach

Photo: Flickr
https://borgenproject.org/wp-content/uploads/logo.jpg
0
0
Kim Thelwell
https://borgenproject.org/wp-content/uploads/logo.jpg
Kim Thelwell
2019-09-27 15:26:05
2019-12-17 13:17:49
7 Facts about Life Expectancy in Côte d'Ivoire