Ethiopian Women Take Charge with Budget Planning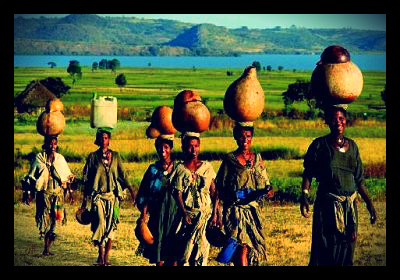 In the Yefag kebale (ward), a small village in northern Ethiopia, women are being trained in gender-responsive planning and budgeting that ensures both men and women beneficiaries are able to contribute to discussions regarding the use and distribution of resources. The training, provided by the NGO Poverty Action Network of Ethiopia (PANE) and supported by UN Women, is enabling women to analyze government plans and budgets for their kebale, and make sure that the needs of men and women are equally prioritized and served.
PANE unites Ethiopian residents and international charities in the goal of reducing poverty and creating sustainable development through the achievement of the Millennium Development Goals (MDGs). PANE increases public awareness of the MDGs and encourages the formation of partnerships with community, regional, national and international organizations in order to meet the goals.
In Ethiopia, PANE has worked to educate women about financial budgeting and planning, and encourages them to identify priority areas in their communities. For the women in the Yefag kebale, one issue that has been highlighted is water. In Ethiopia, only 36 percent of the population has access to a source of drinking water within a 30-minute walk. For the huge number women and girls who are responsible for collecting water, the long walk to collect water, often through isolated and muddy paths, leaves them vulnerable to attacks and sexual violence.
In the Yefag kebale, 11 water spots serve the population of about 3,000. There is a committee for managing each spot, including deciding on its location, design, access and maintenance fees. Melkam Embiale, representative of the women of the village, explains that when all the committee members were men, they did not understand the requirements for the water spots because they were not responsible for carrying the water. "Before, women's perspectives were not taken into account in the planning and budgeting process," said Melkam. But recently, women have secured three of out seven seats on every water committee, enabling them to be able to crucially analyze the needs of the community. "The selected women push for our agenda, which is to construct the water spots closer to the village," says Melkam.
When women have the ability to make decisions about aspects of community life that directly affect them, it positively impacts that whole community. By acknowledging the importance of women's role in the economy, the Yefag kebale is taking steps to overturn patriarchal structures. Working from the success of this small village, PANE plans to expand its gender-responsive budgeting initiative to more communities in the region. The program also looks to move up through local structures to the national government, in order to open dialogues with decision-makers at the senior level. "Now we participate at the kebale level, but we want to participate at the district level as well," says Melkam, suggesting that she and the other women in her village are not planning to stop any time soon.
– Chloe Isacke
Sources: UN Women, PANE
Photo: Water Encyclopedia
https://borgenproject.org/wp-content/uploads/logo.jpg
0
0
Borgen Project
https://borgenproject.org/wp-content/uploads/logo.jpg
Borgen Project
2013-08-19 14:37:05
2017-12-11 01:52:05
Ethiopian Women Take Charge with Budget Planning