Empowering Minority Groups in Albania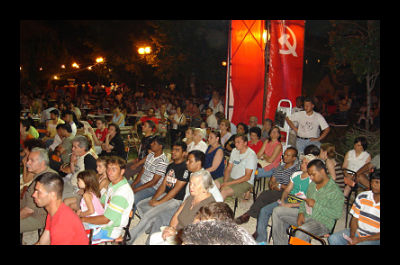 Since the fall of socialism in 1991, Albania has made great strides in establishing itself as an economic and political power in Europe. The country has joined the United Nations, NATO, World Trade Organization and the Council of Europe. It is poised to join the European Union.
One of the factors holding the country back has been the exclusion of its minorities, primarily the Roma and Egyptians. This exclusion has left 75 percent of Roma and 70 percent of Egyptians categorized as very poor, compared to the 28.8 percent of Albanians with the same rating.
This socioeconomic status is due largely to of a lack of education, employment and basic infrastructure.  This has led many members of these groups to seek wages in the informal labor market, which includes prostitution, women and child trafficking and drug trafficking.
While the government has claimed to include these minority groups in Albania, Egyptians have not been given minority status. The government claims they have not met the criteria necessary. Egyptians must share the same language (other than Albanian), have documentation to prove its distinct ethnic origin or national identity and have distinct customs and traditions or a link to a kinship state outside of the country.
However, the Roma have met these criteria, and, as of 2005, the Albanian government has signed up for the Decade of Roma, a World Bank initiative designed to help in four key areas: education, employment, health and housing and gender and non-discrimination. To date however, the results are not very encouraging, as the number of Roma still labeled as very poor continues to rise.
Against this very bleak picture, several rays of hope have begun to shine on the Roma and Egyptian communities from several organizations. One of these organizations is the United Nations Development Plan, implemented by the Ministry of Social Welfare and funded by the European Union.
These organizations have constructed a project designed to promote social inclusion of Roma and Egyptians through vocational training to increase their employability and strengthen artisan and entrepreneurship skills, especially for women and girls.
The training entailed learning how to cultivate medicinal plants. It was a week-long program where participants were trained how to cultivate, collect and dry medicinal plants. They also learned how to start a business. Additionally, women who owned pieces of land were given sage seeds to help get them started.
Within six months, several of the women who took the course were entrepreneurs employing up to three other women in their businesses. The UNDP recruited sage specialists to assist farmers throughout the process and help them in timing their sales and marketing their product.
Luan Ahmetaj, Director of the Medicinal Plant Institute in Tirana, Albania said, "What makes this intervention unique is the involvement of women in business dominated and run by men. This contributes in empowering those communities."
There is a huge potential for Albanian medicinal plants. According to the U.S. Agricultural Department, 57 percent of sage imports into the U.S. come from Albania. There are close to 300 members of Roma and Egyptian communities in the regions of Berat, Korca and Vlora that are now benefiting from the initiative, almost half of them women.
Another aspect of this program has been the support of interventions into infrastructure identified by Roma and Egyptian Community Councils, such as kindergartens, road rehabilitations and other interventions. These programs also support the Government of Albania in its efforts to achieve the objectives set forth in the Decade of Roma Inclusion 2005 – 2015. It also promotes respect for human rights and appreciation for cultural diversity, as prerequisites for the country's EU accession.
– Frederick Wood
Sources: Minority Rights 1, Minority Rights 2, UNDP, UN Albania, ERRC
Photo: Flickr
https://borgenproject.org/wp-content/uploads/logo.jpg
0
0
Borgen Project
https://borgenproject.org/wp-content/uploads/logo.jpg
Borgen Project
2014-11-13 08:00:14
2020-08-01 18:05:28
Empowering Minority Groups in Albania